5. Bass Speaker Cabs
Speaker Cabs, alternatively known as "Cabinets" or "Speaker Cabinets", are also available in any imaginable type, size, and speaker configuration. You'll be sure to find something that matches your intended use, taste, and budget among this great variety.
Note the impedance!
When you buy speakers, you should definitely keep in mind that your head and speakers should be well-matched in terms of power and capacity or impedance, respectively. If you connect a head with a 250 Watt / 4Ohm output to an 8-Ohm speaker, you'll end up with about half the amp's power at most due to the increased resistance. You're basically wasting a lot of amp power from the start, and a 4-Ohm box would have been a more appropriate choice. This is only true, however, if you intend to hook up only a single speaker to your amp. If you want to run two of them, two 8-Ohm boxes are actually the right choice for parallel operation with the amp. The overall impedance is 4 Ohm in this case, which allows you to make full use of the amp's output.
As you can see, matching the various components carefully is a good idea. And don't worry, even experienced musicians often find juggling all these numbers pretty confusing. Getting advice from an expert is never a bad choice if you want to make sure you buy the best possible combination of amp and speaker(s).
We need to talk about transport
As far as transport is concerned, you'll naturally find bass speakers more troublesome than the more portable bass combos by their very nature. A large and sturdy speaker will of course take up more space in your car or van. But you'll find again and again that the louder and more punchy sound you get from a stand-alone high-quality speaker on your stage more than makes up for the greater effort.
Common speaker configurations
If transport problems are not an issue for you, you'll be sure to fall in love with an almost door-height 8x10 speaker (which of course requires a correspondingly powerful amp), and you'll find this love renewed every time you use it. This monster speaker provides a bass as powerful as a wrecking ball (speaking metaphorically, of course); your fellow band members are guaranteed to tremble in awe of your bass power!
But you don't have to go the whole hog: the most common bass speaker is the 4x10, (i.e. four ten-inch speakers on one casing). Over the years, this configuration has become the almost universal standard in all musical styles, from pop/rock through R'n'B, hip-hop, soul, and funk all the way to metal. This is because 10-inch speakers do not strain when producing modern, attack-focussed sounds and playing techniques (e.g. slapping), and the combination of four of them is powerful enough to satisfy the needs of almost any band.
One such cabinet should easily suffice for most scenarios. If you do want more "oomph", you can simply go for an extra speaker. Most often, people use either a second 4x10 speaker or a 1x15 speaker. With its enormous membrane and the resulting massive bass sound, the latter is ideally suited to supporting the agile 10-inch speakers.
15-inch speakers are rarely used as stand-alones. This is because for most bass players, such speakers produce a sound which is too bass-heavy, and their reaction time is too sluggish to respond to playing techniques such as slapping, for example.
There are, however, exceptions to this general rule: in styles such as reggae, which absolutely require an ultra-deep, powerful bass sound, some bass players very deliberately opt for 15-inch boxes, foregoing the high-frequency ranges better produced by smaller 10-inch speakers.
Speakers with two or four 12-inch speakers are also rarely used as stand-alones. Frankly, this is hard to understand and, in fact, a pity, since they are a good compromise between the quick response of ten-inch speakers and the hearty bass share of a 15-inch speaker. Furthermore, their mid ranges are usually growly in a good way - and this makes your bass stand out in the context of your band. It's a real insider tip, and you should try one out if you can get your hands on one.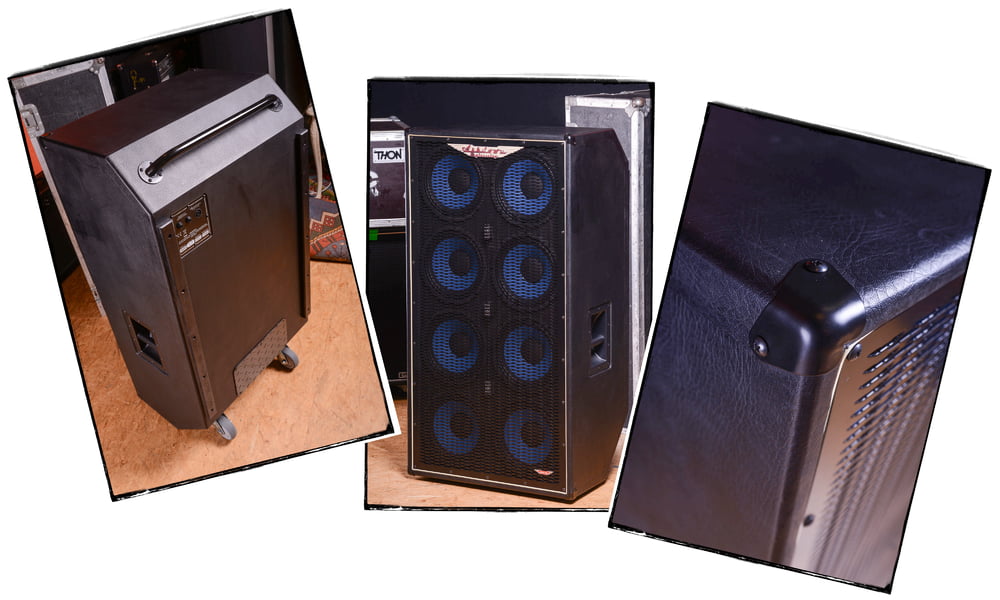 Tweeter
To ensure a well-balanced sound throughout their entire frequency range, most modern speakers cabinets feature a tweeter (also known as a treble speaker). This component is responsible for producing the highest-frequency sounds. Since tastes vary among bass players, and no two agree on how much treble is required in your bass sound, it's useful to have a tweeter that can be adjusted continuously with a pot. If there's only an "on/off"-switch, you forego a great opportunity to fine-tune your sound.
General considerations
We have already mentioned the importance of high-quality comfortable handles. Additionally, the metal grille that protects the speakers should be sturdy and attached absolutely securely to the casing so that there can be no rattling. The casing's surface should also be shock-resistant, with its corners protected by metal fittings or, even better, tough plastic stacking corners. Casings fitted with this particular type of corner are easily and securely stacked onto similarly equipped casings.