4. Chorus / ensemble effect
A chorus effect originates from a process, when a slight delay is added to the modulated over- and undertone of the vibrato effect, and that is mixed with the original. The original signal and the delayed modulation together produce beats, the sound is "duplicated" and becomes broader (this applies to mono as well). In the humble beginnings (somewhere at the end of the '70s) came the sales pitch claiming such a device can turn a 6-string guitar into a 12-string guitar; it could even reach the high E and high H strings as well (the others are equipped with octave strings, which no device can create a convincing reproduction of, no matter how expensive.)
In case of stereo, the age old standard suggest to use two amps or mixer canals (which are placed in panorama, as far as possible from each other). The original sound is generally on one end, and the modulated signal on the other. The beat is thus virtually created in space, which results in a much crisper, cleaner, broader stereo signal. Higher end devices will even allow for a combination of multiple chorus effects in order to achieve even more complex modulations. The chorus belongs (often with a combination with some hall and delay effects) to the "standard clean sound" since the '80s, and the statement claiming the chorus effect is the most well known among all the effects would be no exaggeration. Even lead sounds can get some more polish from a decently set up chorus; it is especially appreciated in case of stereo. Eddie Van Halen uses a peculiar stereo setup for example, in which he has the "dry" sound on one side, whereas the sound is enriched with some chorus and some delay on the other side. This can be felt enormously when someone is the sole guitar player on stage.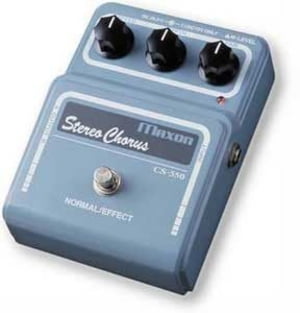 Speed and intensity can be adjusted, more often than not the time of delay as well, which allows for a huge array of various sounds from soft to shining.
Ensemble effect
This can be considered as an expanded chorus effect, which is able to produce a stereophonic soundscape from a monophonic input signal. The ensemble effect can provide the necessary breadth for a simple guitar signal.