4. Keyboard
The keyboard is essential for a realistic and comfortable feel when playing. A lot has been done in years past to improve the feel of them on digital pianos. Today there are models with 88 or more keys, divided into different zones, and with individually weighted keys, just like a 'real' piano has. The reason for the different weights is that the strings of the higher octaves are thinner and shorter and become longer and thicker the lower the octave is, requiring the weight of the striking hammers to increase from treble to bass. This means that differently weighted keys are essential for making a digital piano feel like an acoustic one.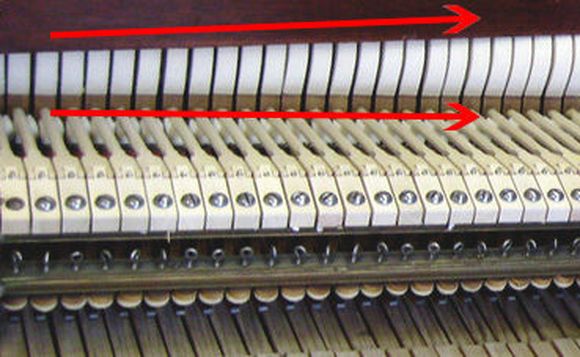 Pressure point simulation is also used by many manufacturers as a further step to offering authentic feeling of play.
The pressure point is the point on the hammer movement of a piano at which the hammer overcomes the jack to fall back into its original position. This system is present in all acoustic pianos and you can feel it by pressing a key slowly without making a sound. Just before the lowest point of the key you feel the pressure point.


Manufacturers often differentiate themselves with the quality and technical structure of their keyboards. Which is why some manufacturers spend a great deal of effort coming as close as possible to an acoustic grand piano in digital form. They may, for example, use wooden keys, even in the mid-class of their digital pianos. A wooden key has a different play behavior than a plastic one due to its weight and upswing.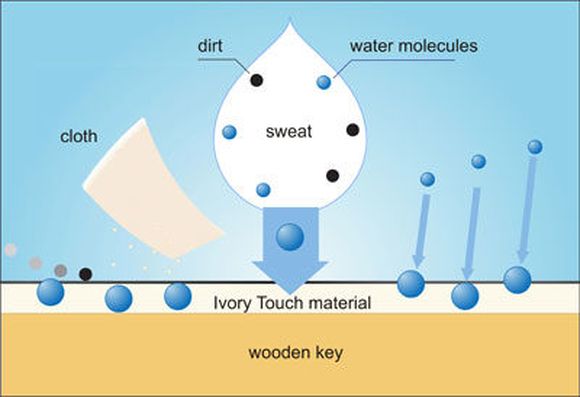 Different key surfaces have been used in recent years as well. Some manufacturers are adding a coating of synthetic or imitation ivory with a roughened surface to allow the player more grip on the keys. The material used has an absorbent effect which prevents the fingers from slipping off the key even after prolonged play. Furthermore, keyboards with this coating are easier to clean.
Sensors
In acoustic pianos a complex mechanism ensures that the hammers quickly return to their original position, allowing for quick repetition of a note as well as better control during play. By using two or more sensors, even subtle nuances in play are correctly recorded and reproduced on digital pianos.