10. Distortion, psychoacoustics and space
"Distortion" sounds like guitar music or like something is broken. But even in mastering, distortion has a purpose, albeit not quite as obvious as in a guitar amplifier. Tubes and transducers generate harmonics, which can be perceived as pleasing to the ear or "warm". By carefully applying harmonic distortion, a mix may be sweetened or thickened. This kind of processing usually comes with a little bit of compression, which is a welcome secondary effect.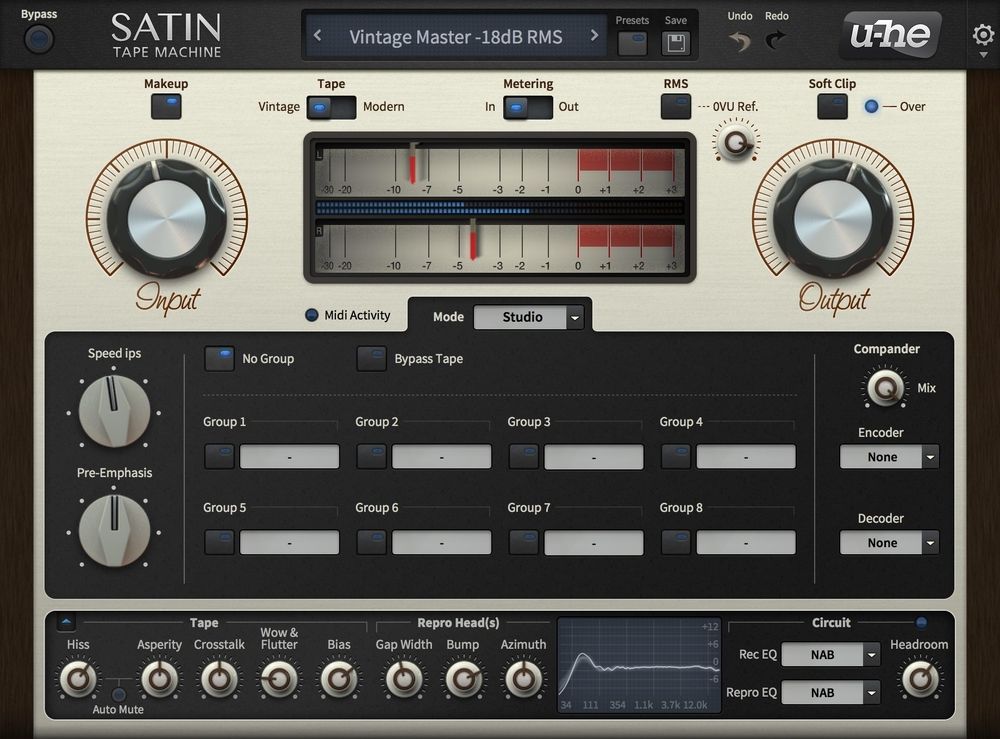 There are now several plug-ins available which emulate the master sections of large and expensive analogue mixing desks, and especially the desirable sonic qualities of analogue master tape recorders. If you don't feel like shelling out money for the acquisition and maintenance of a tape recorder, you can resort to one of the many very good plug-ins, which emulate the entire analog signal path onto magnetic tape and back, including the changes in levels and phase frequency response, and the saturation and compression effects.
Effects belong to the so-called psychoacoustic category: effects which make use of the peculiarities of human hearing. Psychoacoustic limiters are especially common. These multiband limiters can maximise the energy in individual frequency bands, which are analysed separately by our ears. This can lead to an enormous increase in perceived loudness. Again, the use of these tools should not be overdone, because sooner or later you will encounter artifacts such as clipping, which can lead to a harsh and unpleasant sound.
To evoke the impression of deep bass, without having to make the master very bass-heavy, another psychoacoustic trick is often used. Our hearing can reconstruct a missing basic frequency, if the corresponding harmonics are present. This residual effect is the reason why we can hear the low basic frequencies of a double bass, even though the instrument emits almost exclusively harmonics. A bass enhancer makes use of this effect by generating harmonics and reducing the energy of the corresponding basic frequency. This technique is commonly used in order to achieve a great-sounding bass range even on smaller speakers, which cannot actually reproduce the lowest bass frequencies.
If you've been thinking that there is no use for reverb in mastering, reconsider! A carefully and sparingly applied reverb can create a "common space" for the mix. Also, a reverb tail can lead to a denser sound and provide "glue" between the individual instruments.