6. Advanced Features
Many mic preamps, particularly those marketed as channel strips, feature a variety of input options for boosting various other sources in addition to mic signals. This allows 'instrument' level signals such as electric guitar and bass to be boosted to line level, and even boosting of weak line level signals. Additionally, various user-selectable input impedances may be offered, which can be used either to better match a particular microphone, or creatively to affect the timbre – lower impedances typically thin out the bottom end, especially with ribbon and dynamic mics.
M/S Decoding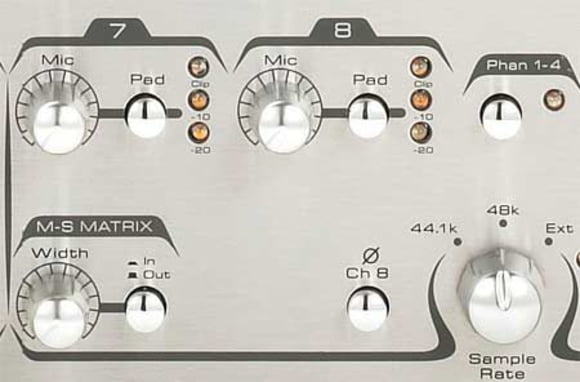 Mid-side (M-S) recording is a stereo recording technique involving two microphones where the stereo image is generated from phase differences between the sources rather than volume differences. One microphone (M) points towards the sound source (usually cardioid), while the other (S) is placed as close as possible to the same point, at ninety degrees. This second mic must have a figure of eight response, so that sound is received at equal volume on both sides, but not from the front. Converting this information into a usable stereo signal involves splitting the S signal between two channels, one of which is phase reversed, and panning hard left and hard right. If all of this is done using a mixing desk, the S channels must be set to exactly equal levels - raising or lowering them together in relation to the centrally panned M channel adjusts the width of the stereo image.
While none of this requires dedicated hardware, some mic preamps have an M-S decoder built-in which applies this process in order to turn the signals from an M-S array into a general-purpose stereo signal, usually incorporating a number of stereo width presets or a continuously variable width control. This can be handy for 2-track location recording, though the ability to adjust stereo width on mixdown is of course sacrificed.