Paulus & Schuler GbR Zoom Clarinet Buffet RC 64mm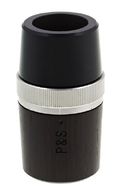 238 €
Including VAT and shipping costs
This product is in stock and can be shipped immediately.

Item number: 365665
sales unit: 1 piece
available since: 2015/06/10
Product Details
Clarinet BarrelWhen the conventional barrel is pulled out for assimilation of intonation the vibrations are cushioned on transfer from the mouth piece to the clarinet since the only remaining connection is the tenon cork. A cavity is formed on the inside and a gap on the outside.
Therefore the aim was to develop a clarinet barrel leading to new sound dimensions and at the same time eliminating the above mentioned problems. The new development protected by trade mark rights offers an previously unknown sound brilliance. The zoom barrel represents the perfect symbiosis of improved sound characteristics and reproducible intonation. The fact that the new z-barrel has a continuous bore in every position of length and additionally is not interrupted on the outside leads to an improvement which seemed unimaginable so far.
Tuning becomes precisely adjustable and visible by an adjusting collar supplied with a scale. Rotating the adjusting collar expands the barrel without modifying the axial alignment. The clarinet barrel is produced with modern CNC turning technology and extended by the adjusting collar for intonation adaption without the mouth piece or the clarinet twisting towards each other.
For Buffet RC series
Boehm system
Size: approx. 64 mm
The lower part of the barrel consists of grenadilla (dalbergia melanoxylon)
4 Reviews
Related Products