Shure Beta 52 Bundle
Bassamp Funk
Bassamp Rock
Inside Bassdrum
Outside Bassdrum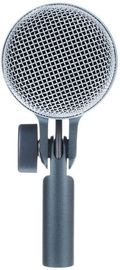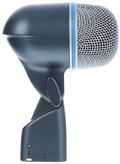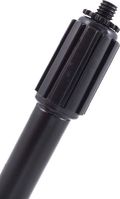 This item is expected back in stock soon and can then be shipped immediately.

Item number: 233784
sales unit: 1 piece
available since: 2009/07/13
Microphone Set For Guitars: Yes
Microphone Set For Drums: Yes
Microphone Set For Vocals & Speech: No
Microphone Set For Cameras: No
Microphone Set For Wind Instruments: No
Product Details
Bundle offer comprising
Shure Beta 52A
The Shure Beta 52A is a dynamic microphone with high output power and a transmission range specially optimised for maximum bass drum punch and accommodating other low-frequency instruments.
It offers a very good response, excellent punch and delivers studio quality even at extreme volume. The superheterodyne characteristics of the Beta 52A ensure maximum isolation of the sound source and high feedback while considerably diminishing background noise.
The adjustable tripod adapter with integrated XLR connector simplifies the positioning of the microphone, especially when used inside the bass drum. At the same time the snap-in tripod adapter holds the Beta 52A securely in place even in hard shocks and strong vibrations. The basket made of hardened steel provides protection against the stresses of the rough stage.
Super-cardioid
Optimized frequency response especially for bass drum kick and low-frequency instrument pickup
High feedback with minimal background noise
Portable stand adapter with integrated XLR connector for easy installation, especially in the bass drum
Basket made of hardened steel protects against wear and damage
Air-sprung vibration absorber protects against impact sound and vibrations
Neodymium magnet for high output levels
Low sensitivity against different connection impedances
Transmission range: 20 - 10,000 Hz
Maximum sound pressure: 174 dB SPL (up to 1 kHz, calculated)
Output Impedance: 45 Ohm
Noise Sensitivity: -64 dBV / Pa (0.63 mV)
Weight: 605 g
Tripod mount
Including bag
Millenium BD 100
Micro Tripod For Bass Drum
Special tripod for the positioning of the microphone in front of or in the bass drum
Extendable
Dimensions: 20 x 19 x 18 to 24.5 cm
Colour: Black
Included: Thread Adapter 3/8 "- 5/8"
Related Products