Adam Hall SWU 400 T Wind up 85 kg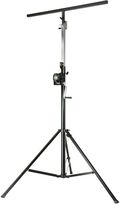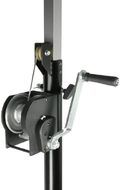 169 €
Sisältää arvonlisäveron, ei sisällä toimituskuluja
Arvioitu toimituspäivä

Perjantai, 12.03.

-

Maanantai, 15.03.
Tuotetta on varastossa ja se voidaan lähettää heti.

Tuotenumero: 327299
Myyntierä: 1 kappaletta
Myynnissä vuodesta: 11.11.2013
Type de pied: Wind-up stand
Construction type: Wind Up lift
Max. Load: 85,0 kg
Support: 36 mm tube
adapter / recording type: 35 mm
Incl. Bar: Yes
max. height: 4,0 m
Crank: Yes
Min Height (m): 1,90 m
Max Height (m): 4,00 m
Max Load (kg): 85,0 kg
Tuotteen tiedot
Wind-up stand with T-Bar
Cheap light tripod with comfortable height adjustment via a hand crank
Owing to its high load capacity of 85 kg, the removable crossbar, and the upper tube with a diameter of 35 mm, the SWU400T is also suitable for use as a speaker stand.
Technical data:
Stand material: Steel
Crossbar material: Steel
Stand surface: Powder-coated, galvanized
Crossbar surface: Powder-coated
Stand colour: Black, silver
Crossbar colour: Black
Number of extensions: 1
Min. height: 1905 mm
Max height: 4000 mm
Transport length: 1735 mm
Tube diameter: 35 mm
Max. load capacity: 85 kg
Weight: 23 kg
Liityviä tuotteita