Kemper Profiling Amp PowerRack Bundle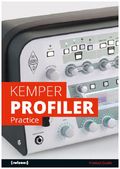 2 699 €
Sisältää arvonlisäveron ja toimituskulut.
Emme ole varmoja tuotteen toimitusajasta tai sitten jakelijamme ei pysty vahvistamaan tuotteen toimitusaikaa. Ota meihin yhteydenotto, jos haluat lisätietoa.

Tuotenumero: 382319
Myyntierä: 1 kappaletta
Myynnissä vuodesta: 24.02.2016
Tuotteen tiedot
Bundle offer comprising
Kemper Profiling Amp PowerRack Set
Kemper Profiling Amplifier Power Rack + Remote Control
Kemper Profiling technology allows the creation of a very precise tonal image (profile) of an existing amplifier configuration (including speaker & miking). Thanks to the many internal editing options, such as: diverse effects unit emulations (up to 4 simultaneously), master effects, EQ, gain, amp definition, power sagging etc., you can edit the sound created far beyond the capabilities of the original amplifier. The Kemper Profiling Amplifier comes with an already large number of outstanding amplifier profiles, which is why the creation of individual ones is not mandatory. Thus it is now possible to map the sound of your own amplifier accurately, and if desired, to modify and have available to practice in the studio or on stage without a lot of lugging about.
Incl. 600 W class D power amplifier (600 W at 8 ohm, 300 W at 16 ohm)
Dimensions (W x H x D): 483 x 139 x 220 mm, 19"/ 3 U
Weight: 5.5 kg
Format: 19"/ 3 U (since the rubber feet should not be removed for ventilation reasons, a min. 4 U rack is required)
Colour: Black
Incl. remote control base board
Connectors:
Mic Input
Line In
Alternative Input
Direct Out
Monitor Out
Master Out (jack & XLR)
S/PDIF digital input and output
MIDI In / Out / Thru
2x Foot switches (jack)
Network
USB
Thon Double Door Kemper Amp Case
Transport Case
Suitable for Kemper Profiling Amp Rack BK Set (Kemper Profiling Amplifier Rack BK + Remote Control)
Made of 7 mm birch plywood
Phenolic resin coating
22 x 22 mm aluminium profile
4 Mini butterfly latches
2 Folding handles
4 Rubber feet
Steel ball corners
Additional compartment for remote control
Foam padding throughout the case
Dimensions (L x W x H): 550 x 475 x 290 mm
Weight: 10.8 kg
Made in Germany
Wizoo Publishing Kemper Profiler Guide
Profiler Guide
Kemper Profiler Practice
By Chris Reiss
"Thomann Special" -Edition
Sound engineering knowledge in order to make the best use of the Kemper Profiling Amp
The profile of guitar amps
Editing the sounds
The Kemper Profiler
With professional tips from "professional Kemperern"
Additional audio material available for download at wizoobooks.com
In German and English
Liityviä tuotteita