7. Single band vs. multi-band compression
Single band compressor (mono)
A single band compressor (mono) processes the entire frequency range of the incoming signal with a single operational amplifier. This type of compressor is suitable for the treatment of single instruments or voices, which are typically tracked in mono.
Single band compressor (stereo)
For processing stereo signals such as the overhead microphones on a drum kit, a dual-channel (stereo) compressor is needed. It is essential that both channels can be linked. The control signal is ideally derived from a mono sum of the two channels. The operational amplifier for the right channel automatically matches the settings of the left channel. In dual mono compressors with a link option, the controls for the right channel will be without function in link mode. Linking the two channels is important, because using two seperate mono compressors (even with identical settings) can affect the stereo panorama of the signals. If, for example, a loud impulse occurs in the left channel only, the left channel would attenuate the signal, while the right channel would not be affected, resulting in a level offset between the two channels. In contrast, a linked compressor applies the same processing to both channels, preserving the stereo image.
Multi-band compressors (mono/stereo)
Single band compression can reach its limitations when it comes to processing a stereo sum during mixdown or mastering. For example, if a loud bass drum impulse triggers the compression, the entire audio spectrum is affected, including the middle and high frequencies of other instruments. This isn't always desirable and can be prevented by using a multi-band compressor. It separates the spectrum into several frequency bands, each of which can be compressed individually. As a result, a low frequency impulse leaves the overtone spectrum of other instruments unaffected. Multi-band compressors are most common in the form of plug-ins, e.g. by Waves. The three-band Drawmer S3 is a hardware example.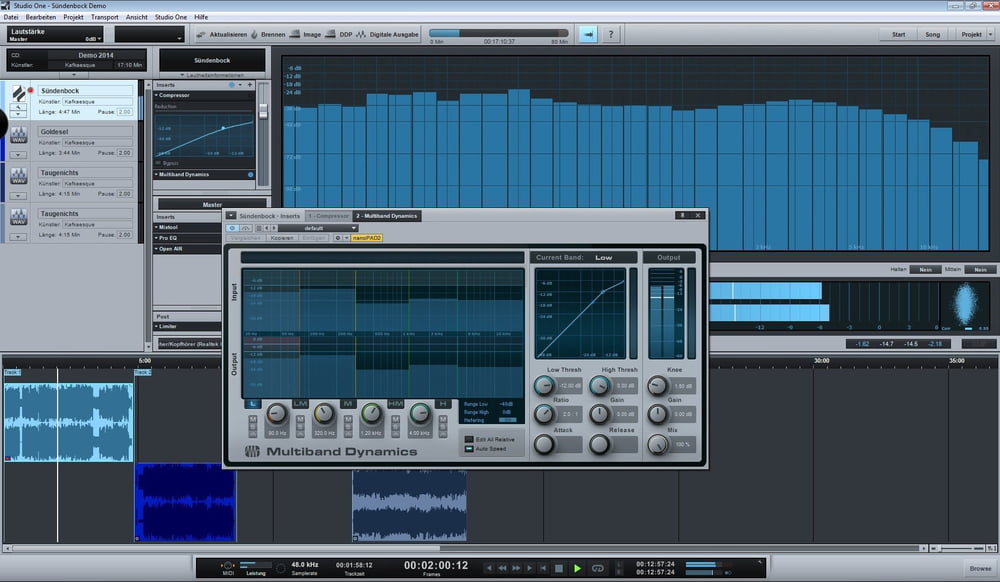 Parhaiten arvostellut tuotteet