Ortofon Concorde Club MKII System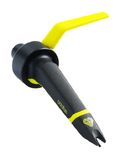 139 €
Sisältää arvonlisäveron, ei sisällä toimituskuluja
Arvioitu toimituspäivä

Maanantai, 1.02.

-

Tiistai, 2.02.
Tuotetta on varastossa ja se voidaan lähettää heti.

Tuotenumero: 431367
Myyntierä: 1 kappaletta
Myynnissä vuodesta: 30.01.2018
Stylus Shaping: elliptical
Require Headshell: No
Application: DJ Club
Tuotteen tiedot
Pickup System
Elliptical cut
For use in clubs and studio
Tracking force: 3 g
Frequency range: 20 - 20,000 Hz
Output voltage: 8 mV
High output volume for loud playback with low preamplification
Feedback security in live environments
High fidelity
Suitable for digitalising vinyl records
Spare needle not included
Asiakkaat, jotka ovat kiinnostuneet tästä tuotteesta, ovat ostaneet meiltä seuraavia tuotteita.
52% Olette ostaneet tämän tuotteen
Ortofon Concorde Club MKII System
Liityviä tuotteita