Richter Guitar Strap SpringbreakI BKBK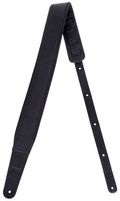 64 €
Sisältää arvonlisäveron, ei sisällä toimituskuluja
Arvioitu toimituspäivä

Tiistai, 9.03.

-

Keskiviikko, 10.03.
Tuotetta on varastossa ja se voidaan lähettää heti.

Tuotenumero: 262011
Myyntierä: 1 kappaletta
Myynnissä vuodesta: 01.04.2011
Length: 156 cm
Width: 60 mm
Colour: Black
Material: Leather
Tuotteen tiedot
Guitar Strap
Material: High quality, soft Napa leather
Length: Adjustable from 98.0 - 158.0 cm in 2 cm steps
Width: 7 cm
Black double stitched seam around entire strap
High comfort support thanks to perfect cushioning
The inner structure of the strap is particularly strong where the strain is greatest
On the rear part of the Richter Springbreak guitar strap are 5 buttonholes
Under each hole is a seam so that guitarists and bassists who like to carry their instrument high can cut off the strap without a worry
Colour: Black
Made in Germany
Asiakkaat, jotka ovat kiinnostuneet tästä tuotteesta, ovat ostaneet meiltä seuraavia tuotteita.
51% Olette ostaneet tämän tuotteen
Richter Guitar Strap SpringbreakI BKBK
Liityviä tuotteita