Roland Aerophone AE-10 G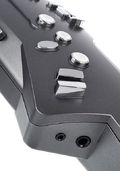 759 €
sis. ALV · Ei lähetyskuluja
Arvioitu toimituspäivä

Perjantai, 14.05.

-

Maanantai, 17.05.
Tuotetta on varastossa ja se voidaan lähettää heti.

Tuotenumero: 421871
Myyntierä: 1 kappaletta
Myynnissä vuodesta: 24.10.2017
Bass Pedal: No
Breath Controller: Yes
MIDI Controller: Yes
Filter: No
Effects: No
Sequencer: No
Product Specific Expansion: No
Tuotteen tiedot
Digital wind instrument
With saxophone grip and internal sound generation
Many sounds
Fingering as with acoustic saxophones
Mouthpiece with reed and bleed sensor for a familiar as well as differentiated game and the ability to control vibrato and pitch
Roland's SuperNATURAL technology reproduces the finest nuances of sound, enabling a dynamic and articulated game
Authentic saxophone sound colors such as soprano, alto, tenor and baritone, which can be easily changed at any time
Other acoustic sounds such as wind instruments (clarinet, flute and trumpet) and violin
Contains Roland's latest synthesizer sounds, optimized for use in a wind instrument
Intuitive operation thanks to sound selection and setting changes via a display
Flexible use thanks to internal loudspeakers
Battery supply (6x AA) with a running time of 7 hours in continuous use with headphone operation
USB port for connecting to a computer
Audio input for connecting a smartphone or music player to play accompaniment songs
Colour: Graphite grey
Including power supply
Matching stand available under art. #404693# (not included)
Asiakkaat, jotka ovat kiinnostuneet tästä tuotteesta, ovat ostaneet meiltä seuraavia tuotteita.
38% Olette ostaneet tämän tuotteen
Roland Aerophone AE-10 G