3. The Computer as a Recorder
By the mid 1990's, computer based digital audio was starting to arrive on the scene, and creative types began to discover the possibilities of digital audio editing. Initially, computers were only powerful enough to cope with single mono or stereo audio tracks. Because of the problems of synchronising digital and analogue audio though, it wasn't until computers could handle multiple tracks that things started to get really interesting –having the audio and the MIDI sequencing together in one computer got rid of the sync problems.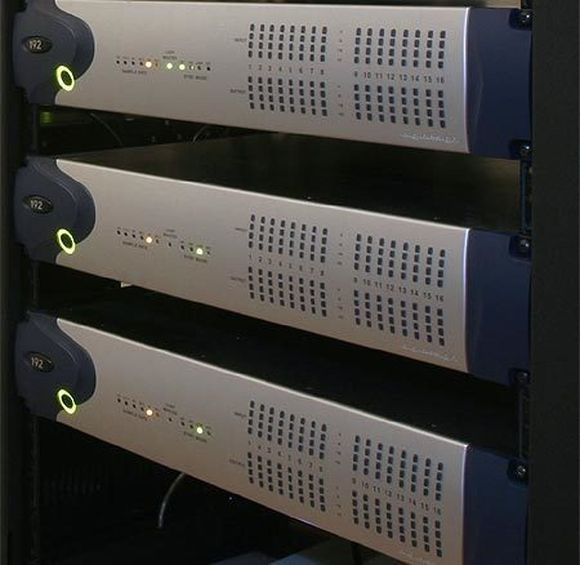 Audio interfaces are the key to using computers as recorders. They dictate the quality of the audio recorded and have a big influence over how well the recording software performs. To fully replace a multitrack tape recorder, you need multiple line level inputs and outputs that can receive the bus outputs from a mixer for recording, and return the audio back for mixing.
Used in this way, the computer is simply replacing the tape machine on a like for like basis. You record in the same way, with the same equipment plumbed into the mixer, except that the destination is now the computer's audio interface rather than a tape machine. At a basic level, the computer simply records to its hard disk, plays back, and rewinds and fast forwards, albeit instantaneously.
Recording audio on a computer has many advantages over tape, for instance the physical restrictions of a tape recorder's track count no longer apply –two inch tape would give you 24 tracks at most, unless you got a second machine and synced it up (no mean feat!), whereas a computer is restricted only by data bandwidth, and can handle up to hundreds of tracks of audio on regular hard drives. There's also editing - it is possible to edit tape with a razor blade and a very steady hand, but with digital audio, editing is virtual and limitless you can experiment, cut, copy, paste, reverse, squash, expand and perform all sorts of other processes without losing the original audio, all the while being able to retrace your steps. These processes go far beyond the basic remit of acting as a recording machine, but this versatility is the primary reason that computers have become the centre of the studio.
Produits avec les meilleurs commentaires
Produits les plus populaires