5. The Computer as a Studio
As we've seen, the computer is capable of being used in isolation as a MIDI sequencer, an audio recorder, and a source of synthesised and sampled sounds. If you could add mixing and effects processing to that list, then the computer has covered every major aspect of the traditional studio environment - rather than being one element in a combined hardware and software studio, the computer is the studio. The software microphone is probably still some way though!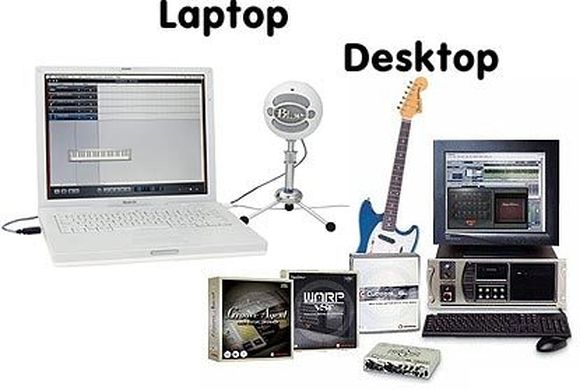 Mixing 'in the box' is in fact now a very real possibility, finally bringing together all the elements of a studio in one place, with the accompanying advantages of the complete integration of MIDI and audio recording and sound generation and processing, plus the extraordinary power of the graphic user interface and general ease of use. With the computer tackling mixing and effects processing, the external mixing board has become superfluous in many studios. In the light of this, most audio interfaces now come with such things as built-in microphone pre-amps, instrument inputs, insert points and headphone monitoring, so that even full bands can be recorded directly into the computer.
Despite all the advantages, a computer based studio is not without its problems –having everything in one place means that a single problem can put the whole system in jeopardy. Some aficionados also question whether the audio quality of computer emulations is really as good as their hardware counterparts, and whether digital mixing will ever sound as good as analogue. In reality though, these are issues only for the most golden eared (and deep pocketed!) - computer based studios have become the standard for their winning combination of huge functionality, ease of use, and wallet-friendly cost.
Produits avec les meilleurs commentaires
Produits les plus populaires