3. GK-ready Guitars
Guitarists such as Pat Metheny and Allan Holdsworth pioneered the use of dedicated (and expensive) guitar synth systems in the early eighties. The success of these amazing new sounds led Roland to introduce systems offering this technology at a more affordable cost. Their GK format became the standard for guitar synthesis systems.
These systems are not just for avant-garde guitarists seeking to explore the sonic frontiers of music. Many recording guitarists and songwriters use these systems simply because they enable them to play keyboard sounds from an instrument they are more proficient with.
First, we'll look at guitars with the GK system built in. One nice thing about having a GK system integrated into the guitar is that it's invisible to the audience and never gets in the way while performing.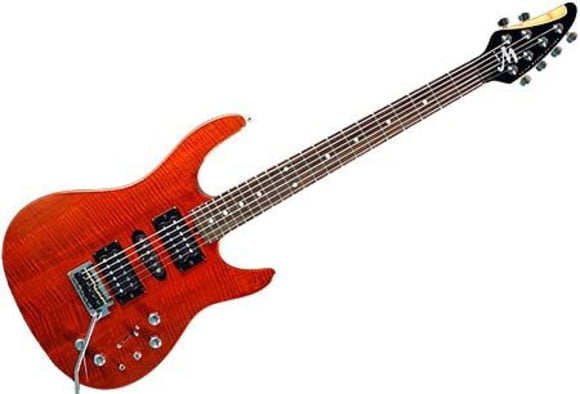 There are two common variants here: Roland's own GK pickups, and those from other manufacturers conforming to Roland's GK standard.
GK and GK-compatible pickups, whether magnetic or piezo, are hexaphonic: that is to say each string generates a discrete output signal, unlike a regular guitar pickup which creates a mixed output from all six strings. This means each string can be assigned a different, unique sound creating polyphonic effects. These options tend to be most flexible when using a dedicated GK-compatible guitar synth module; some of the information may be lost in translation when converting to general-purpose MIDI.
Guitar to MIDI Conversion
If you'd like to use an external synthesizer module or sampler with your GK-pickup, you'll need to convert the signal to MIDI with a guitar MIDI interface. Roland is a leader in this field, with the GI-20 GK-MIDI interface/converter, which enables connection to any MIDI synth and also includes a practical USB to MIDI connection for ease of connection to any computer-based sequencing system. Axon also offers first class guitar MIDI systems; the Axon AX100 mkII is considered by some to be the current state of the thanks to its extremely fast 32-bit RISC processor and features such as pick position recognition, and includes over 500 high-quality GM and XG sounds with 128-voice polyphony. The Yamaha G50 guitar to MIDI converter is also recommended for its exceptionally fast tracking response.

If you're interested in a GK-ready guitar, some of the models available include the following:
Fender Standard Roland Ready Strat (Roland GK pickups)
Ibanez Prestige RG Series RG1520G Roland Ready Guitar (piezo)
Godin SA Models (piezo)
Brian Moore (Roland GK pickups)
Parker Adrian Belew Signature (piezo)
Produits avec les meilleurs commentaires
Produits les plus populaires