Ampeg SVT Micro Head Bundle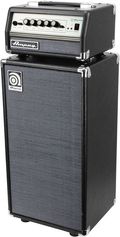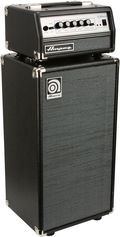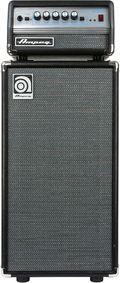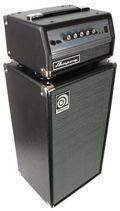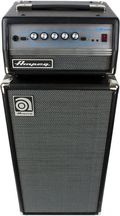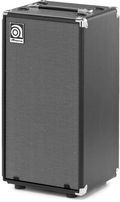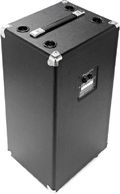 This item is expected back in stock soon and can then be shipped immediately.

Item number: 296811
sales unit: 1 piece
available since: 2012/09/26
Power: 200 W
Equalizer: 3-Band
Compressor: No
Limiter: Yes
Effects Processor: No
External effect loops: Yes
Speaker Connector: Jack, Speakon
Headphone Output: Yes
DI Output: Yes
Tuner Out: No
Rack mount: No
Product Details
Bundle offer comprising
Ampeg Micro VR Head
Bass Amp HeadSince its launch in 1969, there is no alternative to the original SVT from Ampeg. The classic convinces with its unique sound and its "tube-strong" 300 Watt output power.
Now, almost four decades later, Ampeg introduces a mini-version of the legendary amplifier, which was launched under the name of SVT Micro Head. It is ideal for smaller stages and sound studios, where an original SVT would be too big and too loud.
The Micro Head is visually linked to the original SVT - with the silver front plate, the black cover, the chrome-plated corners and the silver-blue face plate, the SVT Micro Head clearly makes it clear that it is not a toy. Despite its small dimensions of 14 cm (height), 30 cm (width) and 25 cm (depth), the head has a real Ampeg preamp and a strong 200 watt transistor output stage.
For recording sessions, the SVT Micro Head has an Aux-Stereo input, which is mixed with the main input and sent to the headphone output. This feature allows the musician to listen to a click or guide track at the same time, record the direct signal from the "pream-out" and remove the amplifier via a microphone. For live applications, the familiar Ampeg Preamp controls include 15 dB pad, gain, bass, ultra-mid, treble, volume and limiter defeat, allowing the musician to quickly and effectively find the desired sound. The world-wide switching power supply and the compact dimensions make the amp the ideal travel companion.
200 W RMS at 4 ohms
Transistor preamp
MOSFET output stage
Aux stereo input (can be mixed with main input and be sent to the headphone output)
Suitable for click or guide track
Controls for 15 dB pad, gain, bass, Ultra-Mid, Treble, Volume and Limiter Defeat
Silver faceplate
Black reference
Chrome corners and silver blue mesh fabric
Switching power supply for worldwide use
Dimensions (H x W x D): 304 x 140 x 254 mm
Ampeg SVT-210AV
Bass Cabinet
Equipped with: 2 x 10" Eminence speakers
Power rating: 200 Watt RMS at 8 Ohm (mono)
Portable alternative to the full-size SVT cabinet
Frequency range (-3 dB): 58 - 5,000 Hz
Usable low frequency (-10 dB): 40 Hz
Dimensions (H x W x D): 610 x 330 x 280 mm
Weight: approx. 14 kg
the sssnake PPS1015
The sssnake PPS 1015
1.5 m Speaker cable, 2 x 1.5 mm² cross section
6.3 mm Jack - 6.3 mm Jack
Suitable for passive speakers - not for active speakers
Related Products