Artec APW-5
Fretless Off-On
Doom Off-On
Spicerock Off-On
Crossover Off-On
Clavinet Off-On
Metal Off-On
Funk Off-On
Slap Off-On
Funkgit Off-On
Fingered Funk Off-On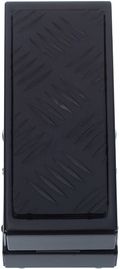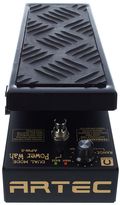 This product is in stock and can be shipped immediately.

Item number: 203144
sales unit: 1 piece
available since: 2008/01/11
Wah Wah Pedal: Yes
Effect Types: Wah Wah
Volume Pedal: No
Dynamic Wah: No
Distortion: No
True Bypass: Yes
Product Details
Wah PedalArtec is a relative new star in the effect pedal sky and is characterised by solid quality and very attractive prices.
The APW-5 is a traditional Wah, which is effective mainly in the mid-range, whereby the frequency range can be controlled with a potentiometer.
Usual wear and tear phenomena on the knob are excluded, since Artec uses a special magnetic potentiometer.
With the Bass-Wah Selector, the frequency range is shifted further downwards, so that woofers also benefit from an effective wah effect. Therefore the solid APW-5 pedal is traditionally also recommended for bass players.
Range control potentiometer with control of the wah wah range and the high-gain mids
On / Off LED
Can also be used as a bass wah (selector switch for extended frequency range)
Power supply via 9V power supply or battery (both optional)
True Bypass
Related Products