GHS Gorgomyte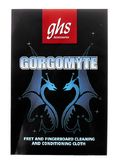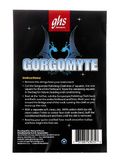 This product is in stock and can be shipped immediately.

Item number: 205820
sales unit: 1 piece
available since: 2008/02/19
The prices in £ are a guideline only.
Product Details
Cleaning & Care Cloth for Guitar and Bass
The wisdom that with a good cleaning & care cloth one can keep the fretboard and frets of your guitar or bass shipshape is already well-established. Only just how good has been the decisive question until now! The people of GHS have developed a polishing and cleaning cloth specifically designed for fretboards and frets, and is already officially used by the following prominent musicians, bands, and companies:
Megadeth, Bob Dylan, Pete Townshend, Tim McGraw, Journey, Toby Keith, Duran Duran, Jodee Messina, Pino Paladino, Weezer, Montgomery Gentry, Lou Reed, Nickelback, Daughtry, Dashboard Confessional, Todd Rundgren, Armor For Sleep, Mathew & Gunner Nelson, The Black Crowes, Ted Nugent, Smashing Pumpkins, Fall Out Boy, Blue Man Group, The Cars, Ricky Martin, All American Rejects, Bad Company, Joe Nichols, The Jones Gang, Foreigner, Fender Custom Shop, Trivium, Steven Stills, REO Speedwagon, Rihanna, Deep Purple, Rob Zombie, Alice In Chains, The Holdsteady, Bette Midler, Dixie Chicks, Billy Joel, Kid Rock, Guns 'n' Roses, Steven Seagal, Heart, The Donnas, My Chemical Romance, Keb Mo, Trapt, Barry Manilow, Foo Fighters, John Mayer, Aerosmith, Shaw Blades, The Trans Siberian Orchestra, Thin Lizzy, Def Leppard, ZZ Top.
The general consensus is that all who have so far implemented the Gorgomyte Cleaning and Care Cloth have not yet encountered another cleaning cloth that keeps the frets and fretboard so well maintained as GHS's does. So why should you? The more in use the guitar or bass, the more the dirt and grease accumulates. Everything looks unsightly, feels dull, and not easily playable. Instead of working the fretboard with cleaning agents, cloths, and then rubbing the frets with material-damaging steel wool, give the GHS Gorgomyte Cleaning and Care Cloth a try. It fulfills both jobs in one: perfectly and without wear to your valuable instrument.
For guitar and bass fretboards and frets
Contents: 1 piece
154 Reviews
Related Products