2. Basic Equipment
Decks (Turntables)
A turntable is a device that spins a disc, and in DJing terms can be either a vinyl record or a CD (please refer to the Online Advisors for CD and Vinyl Decks for more detailed information). As a DJ these will most likely be your main means of delivering music to your audience, so it's imperative that the choice of decks is not taken lightly, as it can have a huge effect on how quickly you learn and master the techniques of DJing.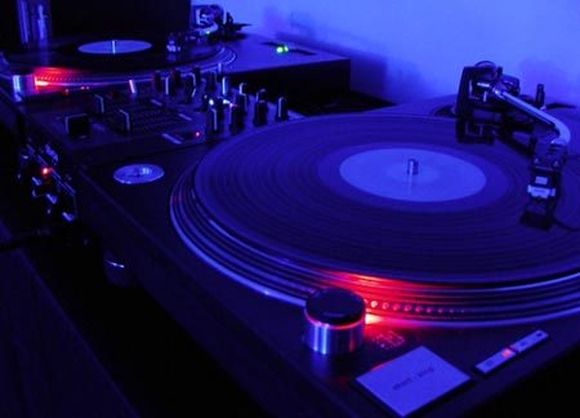 A classic two turntables and a mixer setup
Mixer
The mixer is the hub of a DJ's setup, used to control exactly what the audience hears and when. When purchasing a mixer, remember that this will usually be a case of 'you get what you pay for'. If an inexpensive mixer has stacks of features, it is more likely to perform the basic functions poorly - look for quality faders and EQ instead. If you're just starting out, a good quality simple mixer will help you to develop quickly as a DJ, although you should consider something with an effects loop as this will allow you to expand your setup once you've mastered the basics.
Headphones
These are the means by which the DJ 'cues up' the next track. Good isolation from external sound and a high maximum SPL (Sound Pressure Level – a measurement of volume) are important. DJ headphones typically have low impedance (a measure of electrical resistance) – very low impedance will produce greater volume, but also lower audio quality; think about striking the right balance (and also conserving your hearing). Also consider the type of music you'll be playing most often - for example breakbeat based music relies on high frequencies for the majority of its rhythmical content, whereas house commonly has more low frequency rhythms, and this should be reflected in your choice of headphones, e.g. a drum 'n' bass DJ should value high frequency clarity over bass response when buying headphones as this will help them to pick out the rhythm in a loud club environment.
PA/Monitors
The last piece of the puzzle is the sound system. There are two options available - active and passive. Active monitors have an amplifier built-in which means that each speaker requires mains power, but can take an input directly from the mixer. Passive speakers require a separate amplifier that is matched to the power rating of the speakers, and so a passive setup means more pieces of equipment and is more complicated to put together, but can also be more flexible and has the advantage of keeping the amplifier controls close at hand.