3. Laptop Setups
More and more DJs are moving their collections over to digital formats and working from laptops. Laptop DJs can enjoy taking their entire music collections with them to a gig and still only having to carry a small, light bag. Depending on what software is used, the DJ may also have a wealth of high quality effects and live editing tools available, allowing him easily to create interesting mixes, where once his job would have been much harder. On the down side though, laptops are a lot less stable than a piece of vinyl - unfortunately they do crash from time to time, and if you're relying solely on a laptop for your audio, this could end your set very quickly!
Laptop solutions are heading in two directions - laptop only, and hybrid:
Laptop Only
There are a number of pieces of software that allow a DJ to play from just a laptop, all of which need a sound card with two or more stereo audio outputs (4 or more mono channels). This requirement is due to the fact that discrete outputs are needed either for both the main and monitoring sections of the software when using an internal (software) mixer, or for an output for each deck when using an external (hardware) mixer. When using this type of software, the DJ uses their mouse in conjunction with keyboard shortcuts to control the virtual decks. This can be tricky at first, but most software allows you to customise the controls to suit your personal preferences. DJing software usually also includes effects which can be applied to tracks as needed.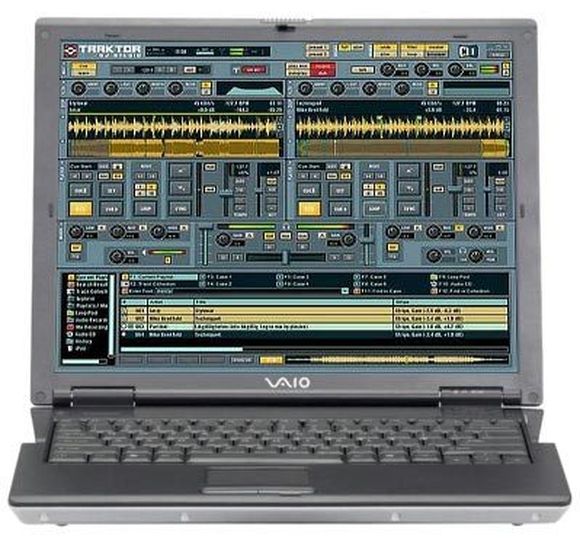 With a good control system, all you need is a laptop and a sound card.
Many different companies are now introducing controllers that are specifically designed to work with DJing software, the majority of which look and respond much like an audio DJ mixer. These devices generally connect to the computer via USB, which both supplies power and carries MIDI Control Change messages to the software. The software in turn converts these messages into movements of the 'virtual' controls.
Hybrid
The essential idea of a hybrid system is to control the mp3 playback of a laptop with standard turntables. The idea was first put into practice by Stanton with their Final Scratch system. Unfortunately, Final Scratch is no longer in production, however a number of other companies have taken up the concept and created their own products, based on the same technology. All of these systems have in common that they require control vinyl, software and a multiple in/out sound card.
The basic concept is as follows - the control vinyl has a complex audio timecode recorded onto it (this sounds like a high pitched tone to the human ear) which is played on the decks as any other vinyl would be. The sound card is set up so that the output of each deck goes directly into it, and its 'thru' and output connections are connected to the mixer's phono and line inputs respectively. In this way, when the mixer is set to 'phono', it will receive the audio from the turntable, and when it's set to 'line', it will get the audio from the laptop.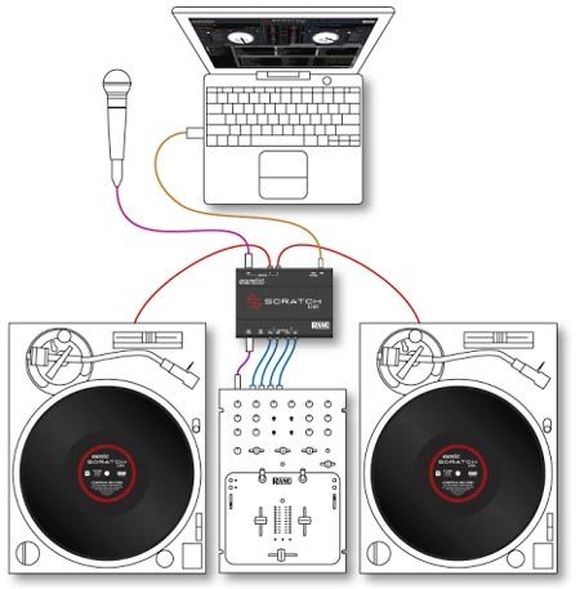 When connected to a computer, the soundcard takes a copy of the signal from each deck and passes it to the DJ software. The software analyses the timecode from the vinyl and derives the deck's speed and direction. The software can also tell how far from the beginning of the record the needle is. All of this data is analysed in real time for both decks simultaneously and applied to whichever mp3 audio files are loaded, so when the DJ puts the needle on the control vinyl, the relevant mp3 starts playing at the correct pitch setting and in the same direction as the turntables, and also from the same point in the song that it would have done if it had been printed on the vinyl instead.
Taken together, all of this makes for an extremely flexible system that allows a DJ to carry thousands of tunes to a gig, without sacrificing the control and feel of using vinyl.