2. Cleaning the fingerboard and strings
Every guitarist knows and fears it: After intense practice sessions and months of sweaty rehearsals and gigs, the fingerboard becomes dotted with gross, ugly deposits. These accumulations of dirt and scum can become a real nuisance, especially if you don't clean your guitar at regular intervals. We'd like to show you some techniques and tools that can help you clean your fingerboard.
If you want to avoid lengthy, laborious cleaning duties, you should wipe off the strings and the fingerboard with a lint-free cloth after each use. This can be a soft cotton rag or a fancy guitar cleaning cloth made specifically for this purpose. Cleaning the strings is easier when the tension is relaxed and the strings are lifted from the nut, but if you're in a hurry, it can also be done in the normal, tuned state. Just wipe off each string along its entire length and diameter. Done! If you wish to treat your strings to something a little more fancy, you will find that there are numerous special cleaners and conditioners available. Besides cleaning your strings, these products can protect them from deposits and corrosion for some time, improving playability. Naturally, this will ultimately result in a longer life span.
Different methods apply to coated strings, which are available in countless varieties. With these, you'll want to follow the manufacturer's care instructions. For most fully coated strings, you can usually get away with wiping them off with a dry or slightly damp cloth. There's no need for special care products, and they can even have detrimental effects: Liquids and oils can penetrate though tiny holes in the coating and compromise the visual appearance of the string.
When it comes to cleaning the fingerboard and frets, varnished maple fingerboards and quartersawn, Fender-style maple necks are the least work-intensive. Simply apply a suitable guitar polish, wipe it off with a rag and you're done. Open-pore palisander or ebony fingerboards are a different story. Here, you'll need to be a bit more diligent to keep the fingerboard in shape. Cleaning the pores is best achieved with special fingerboard oils, which are available from various manufacturers (see page 11). Experiments with other oils (chemical or plant-based) should be avoided! Apply the oil in small quantities to a lint-free, soft cloth and work it into the wood with constant pressure. Persistent deposits along the frets can be removed by coating them in oil and letting it penetrate for some time or a maximum of one hour. After that, the patina no longer stands a chance and can easily be removed with a cloth. But lemon oil does more than cleaning. It also protects the fingerboard, establishes a healthy moisture balance and results in a perfect gloss! Pre-formulated cloths and sponges can make this job easier and quicker.
By the way: Oxidized frets can be treated with standard stainless steel polish. This is especially advisable if you've neglected caring for your guitar for some time. Just make sure to remove the strings beforehand and protect the wood with masking tape or something equivalent.
Treating unpainted necks
Unpainted, bare-wood necks are popular with many guitarists. To ensure optimum wood protection, these are often sealed with special oils and/or waxed by the manufacturer. The results are usually very convincing, and if you've enjoyed the natural playability of a neck treated in this way, you most likely won't want to miss it.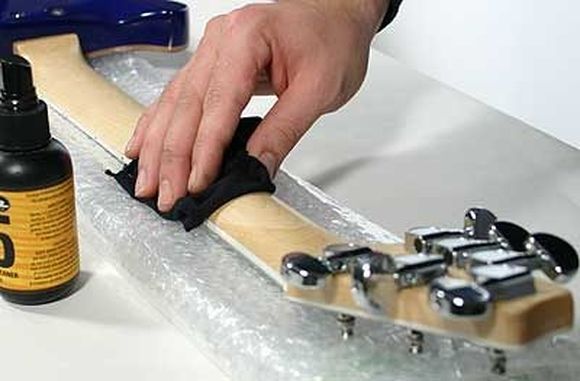 But as they say: Where there's light, there's also shadow. Despite the manufacturers' preservation efforts, unpainted necks do require regular care. To clean the neck and moisturize it at the same time, we recommend the aforementioned lemon oil. If the neck is very dirty, you can resort to wet sanding it with very fine sandpaper (1000 grit, available at well-stocked automotive supply stores). "Wet" is not to be taken literally in this context. Again, the almighty lemon oil should be used as a polishing aid. Simply apply a few drops of oil to the sandpaper and treat the back of the neck with minimal pressure. No worries: The very fine sandpaper only removes the dirt from the surface, leaving the wood undamaged.