the t.amp Arena Bundle XL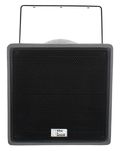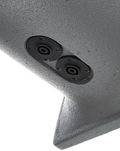 €1,222
£1,049.67
Including VAT and shipping costs
This product has been ordered and is expected to arrives in the next few days.

Item number: 459448
sales unit: 1 piece
available since: 2019/02/08
The prices in £ are a guideline only.
Product Details
containing
1x the t.amp TSA 1400 Amplifier with Switched-Mode Power Supply
2x 670 W/ 4 Ohm
2x 450 W/ 8 Ohm
2x 800 W/ 2 Ohm
1x 1380 W bridge at 8 Ohm
1x 1600 W bridge at 4 Ohm
XLR input and output
Speaker Twist output
Protected circuit design: Audio limiter, temperature und short circuit
Dimensions: 484 x 350 x 97 mm
19"/ 2 RU
Weight: 10.4 kg
1x the t.bone free solo Twin HT 823 MHz 2-Channel UHF Wireless System
With 2 dynamic handheld transmitters (directional characteristic: cardioid)
Frequency band: 823-832 MHz
8 Pre-programmed frequency groups with 8 available channels each
1 User channel
Adjustable squelch with threshold display on the receiver
Frequency scan in the receiver
Adjustable AF output
Adjustable transmission power: 5 mW, 10 mW, 20 mW
Infrared transfer of the settings from the receiver to the transmitter
Pilot tone
Increments of 25 kHz
19"/ 1 U Housing with 2 x BNC outputs for antennas
XLR- and jack output
Operates with a 12V 500 mA DC power supply (positive polarity (+) inside)
Dynamic handheld transmitter with metal housing
LCD display
Operates with 2 x AA batteries or rechargeable batteries
Includes plastic case and rack mount
Corresponding microphone holder: Article Nr #150793# (not included, must be ordered separately)
2x the box i208 Horn-loaded Outdoor Speaker
Lightweight housing
Waterproof
With 8"/ 1" coaxial speakers
Rated power: 480 W Peak/120 RMS
Frequency range: (90 - 15,000 Hz) +/-10 dB
Impedance: 8 Ohm
Peak SPL: 122 dB
Dispersion: 60° x 60°
Dimensions: 325 x 325 x 345 mm
Weight: 17.5 kg
1x the t.mix Source Mix 18R Microphone / Line Mixer
8 Separately controllable mono input channels
8 Balanced XLR and 6.3 mm jack inputs
Phantom power: +48 V switchable per channel via dip switch on the back
Tone control per channel
1 Balanced 6.3 mm jack output
Unbalanced pre-fader output (RCA unaffected by master level control) and aux bus input (to interconnect multiple devices)
Installation depth: 125 mm
Format: 19"/ 1 U
Weight: 2.1 kg
1x Cordial CLS 215/100M Professional Speaker Cable (Sold by the meter)
Engine powers up to 300 Watts from small power amps, 100 volt systems, powered mixers, vocal and instrumental amplifiers can with cable cross-sections of 1.5 mm² safely transported.
Semi-professional connectors due to the small overall diameter easy to install.
Very flexible and robust
Conductor area 1.50 mm²
Composition of conductor 84 x 0.15 mm
Cu black
Conductor isolation: PVC
Composition of cores: 2 stranded wires
Overall sheath: PVC
Overall diameter: 7.0 x 0.2 mm²
Conductor resistance: 13 Ohm/km
Weight approx. 71 g/m
Colour: Black
Roll with 100 m
2x pro snake TPD-3 1 FM Professional DMX Cable
With black 3 pin XLR plug
Length: 1 m
Impedance: 110 Ohm
Capacity: 72 pf
Cross-section: 2x 0,25 mm²
PE Insulation
Braided Shielding: 16 6 / 0,12 TC

PVC Outer sheath
Diameter: 6,0 ± 0,2 mm
Colour: Black
Note: Cable tie not included in delivery

1x the sssnake MXP2009 Audio cable

XLR male to 6.3mm stereo jack
Balanced
Length 0.9 m

4x Seetronic ML4FC-X Speaker Twist 4pin Speaker Twist Plug for Cable Connection

4-Pin
With latch lock
For cable diameter of 7 - 14.5 mm
Three-part housing
With collet for strain relief
Screw connection