Harley Benton HBV 990AMB 4/4 Electric Violin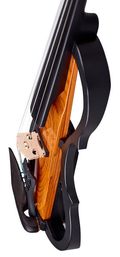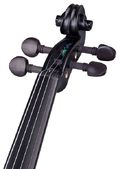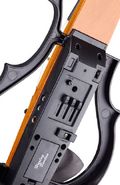 This product is in stock and can be shipped immediately.

Item number: 417280
sales unit: 1 piece
available since: 2017/11/24
Number of Strings: 4
Fretboard: Maple
Body Material: Birch
Pegs: Birch
Chin rest: Wooden
Neck: Maple
Incl. Bag: No
Incl. Case: Yes
Incl. Bow: Yes
Incl. Shoulder Rest: Yes
Incl. 4 Fine Tuners: Yes
Product Details
Electric Violin
Size: 4/4
With active pickup system
Headphone output
Jack output
Frame made of plastic
Body and pegs made of birch
Neck and fingerboard made of maple
Design: Amber
Includes case, shoulder rest, composite bow, rosin and 9 V battery
The perfect start for playing the electric violin
As an electric violin, the Harley Benton HBV 990AMB does not have an acoustic sound box like a classical violin, but a solid centre block. This means that the instrument is primarily intended for electrically amplified playing. This is made possible by an active pickup system that has a three-band tone control and various connection options. A plastic frame all around the instrument ensures a perfect hold when playing. Starting to play the electric violin is as easy as can be with this instrument: in addition to the electric violin itself, the delivery includes a case, a shoulder rest, a composite bow, rosin for coating the bow hairs and a 9-volt battery for powering the active pickup unit.
An brilliantly engineered instrument
The body of the Harley Benton HBV 990AMB is made of amber lacquered birch wood with a very attractive and high-quality grain; the fingerboard is glued to the maple neck and is also made of maple, here coloured black. Fine tuners on the tailpiece allow uncomplicated and sensitive tuning of the violin. The volume of the active pickup unit can be adjusted with a rotary knob on the underside of the instrument, and three sliders adjust the individually desired bass, mid and treble settings. Also on the underside is the compartment for the 9-volt battery for the power supply of the pickup system as well as the plug connection for the chin rest. Two mini-jack sockets (3.5 mm) are positioned on the side for connecting headphones and an external sound source such as an mp3 player; a very useful feature that allows a playback to be recorded during practice and listened to through the connected headphones.
It can get really loud!
Violinists from a wide range of musical backgrounds will be delighted with the Harley Benton HBV 990AMB, because this instrument offers uncomplicated amplification with a very variable tone. Also, with the piezo-based pickup system, feedback problems are virtually unheard of, even at higher volumes. The attractive price makes the Harley Benton HBV 990AMB appealing not only to beginners, but also to demanding players who are looking for a flexible electric violin as a second instrument. Incidentally, many violin players use an electric violin alongside their acoustic instrument for practising at home - so neighbours are not bombarded with penetrating violin sounds. In any case, the unamplified sound of the Harley Benton HBV 990AMB is loud enough to hear itself at a sufficient volume when playing alone.
About Harley Benton
Since 1997, the Harley Benton brand has been serving the needs of many guitarists and bassists. In addition to an extensive range of stringed instruments, the house brand of Musikhaus Thomann also offers lots of amplifiers, speakers, effect pedals and other accessories. In total, the range comprises over 1,500 products. Produced by established manufacturers, all Harley Benton articles convince through quality, reliability and a nevertheless favourable price. Due to the constant expansion of the portfolio, Harley Benton always offers new and innovative products for the musical everyday life.
At home in all styles
The Harley Benton HBV 990AMB opens up the wide and varied world of electric violin playing - in an all-round carefree set and at an extremely attractive price. Whether in a jazz combo, a bluegrass ensemble or a rock band: wherever a clear and assertive amplified violin tone is required, this electric violin is at home. Thanks to its active pickup system, the Harley Benton HBV 990AMB proves to be absolutely uncomplicated - simply plug it into an acoustic amplifier or sound system, adjust the volume and tone, and you're done. And if you like experimental sounds, you'll have a lot of fun running the violin through effects devices. Whether pimped with distortion, echo or octaver, or simply played with an unadulterated, loud sound - this electric violin is a real pleasure to play.
Customers Interested in This Product Also Bought

39% bought this product
Harley Benton HBV 990AMB 4/4 Electric Violin
Related Products