5. Other Features
By far the most important feature of a master keyboard is the playability of the keys. If you already have some playing experience then a cheap keyboard will likely become a big issue when playing complex pieces.
The keyword here is weighted. Besides normal keys, found in every conventional keyboard or synthesizer, there are keyboards with lightly weighted or fully weighted keys. The feel of these models will be much closer to that of a real piano and your playing technique will improve from their use as well. Keyboards with hammer mechanics are modeled after real pianos and offer the closest approximation, but unfortunately they're also the most expensive.
After the playability the number of keys is the most important aspect to consider. Fewer keys allow for a more compact design which fits on any desk but prevent a lot of octave changes with the keyboard or sequencing program. It's been proven that if you put a piggy bank on your desk and throw ten cents in it every time you change octaves you'll have enough for a bigger keyboard before you know it :-)
Just as important are the integrated MIDI control options, which make it possible for you to control your equipment through the master keyboard. Better equipment allows for less frequent use of the mouse or sound module. Touch dynamics are offered by all models with MIDI function but not necessarily after touch or controls of pitch bend and modulation, which can be found on any synthesizer today.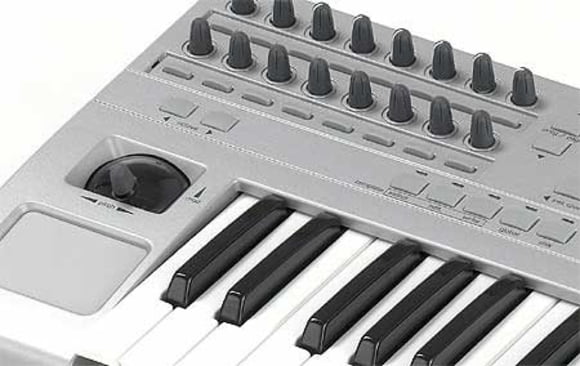 Last but not least are the included accessories. Will your master keyboard come with a sustain pedal or stand? Do you need a separate MIDI interface or just an adaptor cable? Which software is included? Can you play it out of the box or do you need to buy additional sequencing software?
If you plan to play your device on stage or in the practice room, then you should also consider features like transpose, split (different sounds for the left and right hand) and layering (multiple sounds played over one another). These functions are offered in basically every modern sequencing program but for use in a live setting it's nice to be able to play without a computer.
How do I connect my Master Keyboard to my MIDI equipment?
I've connected my MIDI Keyboard to the computer but don't hear anything. What am I doing wrong?
Why is my master keyboard only working when my computer is turned on and the sequencing program is running?
Why do sounds still come from my synthesizer when I use it as a MIDI keyboard?