4. The module
The heart of the matter or more precisely the brain 'mission control' of any e drum set is the drum module. An electronic drum set sounds as good - or bad ( and this is a nice excuse for the less gifted amongst us :-) as the module permits.
You have to imagine the module as a control unit, a computer, that edits the incoming signals from the triggers and associates them with the according sounds and applies effects. The quality of the module though, depends not only on the quality of the on board sounds. Many modules let you upload your own samples anyway. The determining factor is how exact, how fast and how precisely the incoming signal is processed. What can easily be done with any acoustic drum regarding dynamic range and speed is already hard work for a module. This is readily shown when playing a roll on the snare pad. In slower (and of course cheaper) modules the processor can't keep up at a certain speed. Your roll will miss a few hits. Another factor is the dynamic range in volume. The criteria here is how many shades the module can reproduce.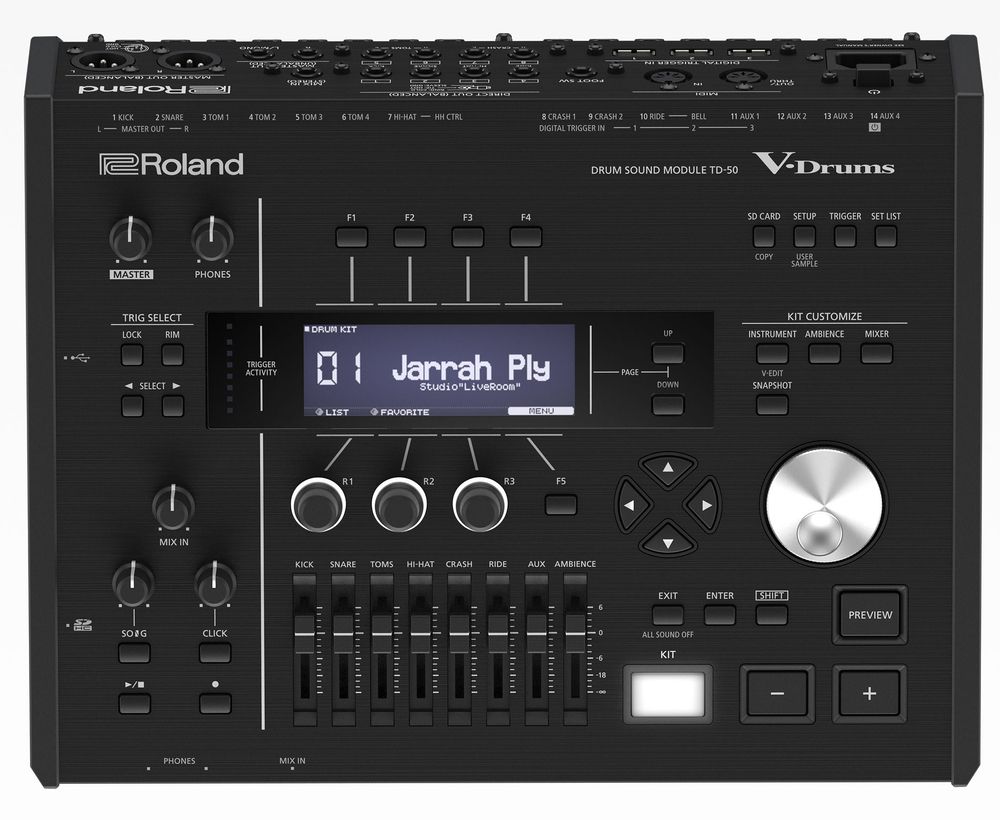 Regarding drum modules the following rule applies: Expensive is good. Roland leads just ahead of Yamaha being followed by Alesis. The number of manufacturers is relatively small. So far Roland's flagship., the TD 20, has no competition.
Still - even entry level sets are of excellent use - especially for practice. A beginner's set does not have to do everything. The advantage of a multitude of sounds and the almost silent operation are present just as in any electronic set.
Connectors

The module hast two independent outputs. One as an uplink to the PA or drum monitor, the other for headphones. Furthermore there are features such as metronome or a drum tutor with which you can practice new grooves.
MIDI in and out are pretty much standard, making it easy to integrate the module into a MIDI set-up. Good modules offer a variety of effects such as ambience, echo, reverb etc. With a bit of experience you can shape amazing sounds.
Because of it's connectivity, the big number of In- and Outputs, a drum module is easily integrated into a recording set-up. This is not only true for studio recording but is of particular interest for home recordings. A drum module is less challenging than a fully mic-ed drum kit in your living room– with improvised sound proofing on windows and walls.
It is fast to set up, the settings are easy to adjust and noise pollution is no issue.