5. Flanger
A member of the delays group. The slightly delayed second rendition of the signal generates phase offsets and periodic cancellations, which lead to discoloration of sound. Flanging is the most extreme form of the chorus effect.
Flanger and phaser offer a much heavier modulation as opposed to the chorus pedals. Of course, comparisons are always a little limping.
Both effects have been envisioned in the final years of the '60s to emulate incredibly spectacular effects, which are produced when an identical signal is played in sync on two separate tape players, and a slight pressure is repeatedly applied to one of the flanges (the rim of the tape spool). Doing so had the effect of suddenly delaying one machine slightly, causing phase shift effects similar to modern flanging and phasing, until the synchronisation was gradually re-established. A few famous examples: the legendary guitar solo of Eric Clapton on While My Guitar Gently Weeps was produced as such, because Eric reckoned his contribution to a Beatles-song should sound less like his characteristic blues sound, and much more Beatlesque. The end of Jimi Hendrix' Bold As Love drowns the whole track in the stunning flange effect!
It was of course quite cumbersome to achieve this sound back in the day, and it was impossible to do it on stage. Which is why clever people tried to create the effect electronically, and the first result of this process was the phaser.
The flanger really comes much closer to what the tape players could do. If the flanger is set up to a slow effect on an extreme end, the result can be compared to the sound of a jet plane, but with a decent, clear setting it can also function similar to the chorus (note that, as mentioned, comparisons are always a little off). The flanger pedals can be heard pretty frequently in clear recordings of the '70s (Pink Floyd or Genesis is worth mentioning), but the devices can add that certain something to distorted sounds as well - this is what you can hear on the first records of the one and only Eddie Van Halen.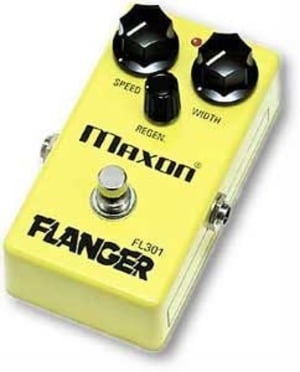 Speed, intensity and feedback (the already processed signal can be processed for a second time, which in turn creates a more intense, more apparent) can be regulated. The flanger allows for the regulation of delay times as well, which allows for the coloring of the effect.