2. History
In 1997, a Scandinavian software company called Propellerheads released a program that revolutionised the computer-music industry. That program was Rebirth RB-338, and was a beautiful simulation of a pair of Roland TB-303 bass synths and a TR-808 rhythm machine. As with the originals, you couldn't play them from a keyboard - instead the TB-303 used a step sequencer and the TR-808 a row of 16 pads that you could turn on or off for each sound as it cycled round. Sticking to an emulation of the machines' original interfaces was perhaps the key factor in Rebirth's success, as at that time computer and soundcard technology was not up to the task of generating sound from software quickly enough to make viable using a keyboard. Rebirth bypassed this problem completely, so anyone could use it, and instantly start making grooves without the need for a keyboard, or the ability to play one.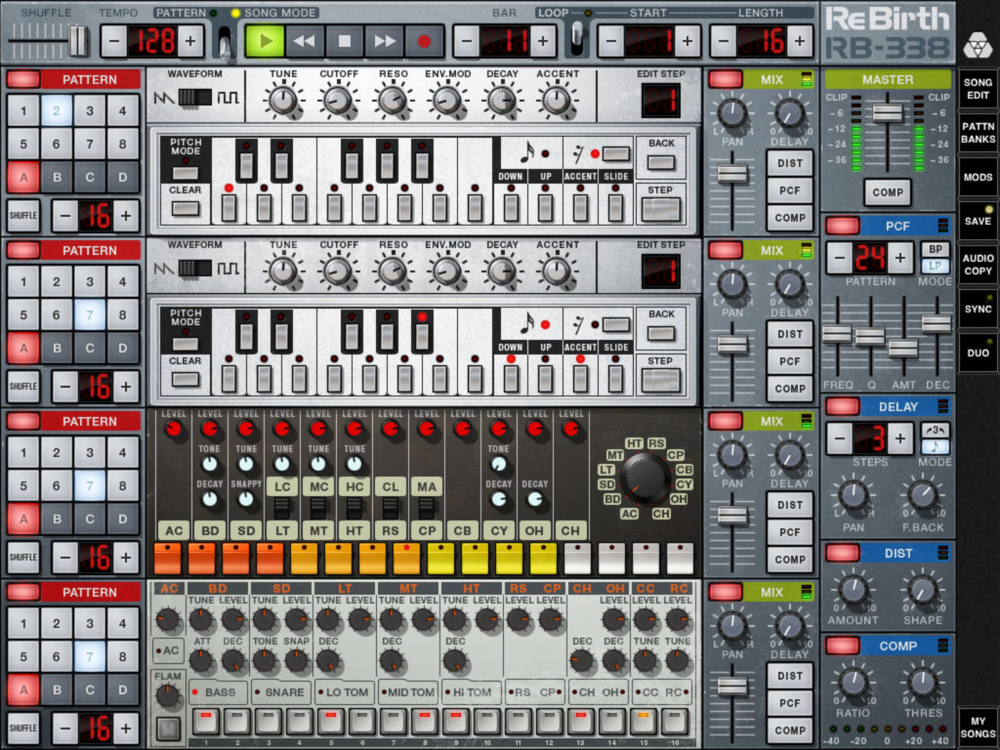 Steinberg, the creators of Cubase, released their Virtual Studio Technology (VST) architecture at around the same time, which brought proper 'live' mixing and real-time effects plug-ins to their recording software. Propellerheads wanted to find a way to integrate Rebirth with the VST engine – their solution was 'Rewire'. This is essentially a bridge between the outputs of Rebirth and the VST mixer in Cubase, allowing you to route, mix and add effects to Rebirth alongside audio tracks. This development inspired Steinberg to create an extension of their VST engine which allowed software synth 'plug-ins' to be used, in much the same way as the already-existing plug-in effects. These were called 'VST Instruments' or VSTi's for short. The success of VSTi's hinged on the seemingly elusive ability to play them in real-time from a MIDI keyboard. Steinberg's ASIO driver technology (Audio System In/Out) held the key, and the release of ASIO 2.0 and VST 2.0 in 1999 saw latency down to under 10ms (milliseconds) for the first time, rendering VSTis properly playable. It was the integration of the software instrument and recording software that was the real stroke of genius, and this allowed software companies to concentrate on generating great sounds without having to worry about the issues of connection with the soundcard and latency – Cubase handled all that for you.
In the early days, most software instruments were basic models of analogue style 'subtractive' synthesis – oscillators, envelopes and filters – but over time, other forms of synthesis were explored such as FM, wavetable, and acoustic modelling. Once GigaSampler and Bitheadz Unity DS-1 had demonstrated that the computer could also handle sampling, there was no barrier to the computer becoming the ultimate sound source – CPU power was the only limitation.
Other recording-software companies eventually caught up with Cubase, either by adopting Steinberg's standard, or by introducing their own. Cakewalk launched the DirectX Instrument and Digidesign the RTAS (Real-Time Audio Suite) Instrument, while Apple later developed Audio Units. These days, most software instruments are compatible with all the major formats.