7. Custom Cases
If you don't find a case that suits you among the offers listed, you can have a case made to your specifications. This is not much more expensive than a pre-made standard case. In order to make things more convenient for you, we have set up typical examples for the most popular types opf case. These examples have alll the necessary features and give you a good idea of the costs involved. Based on your choice of the example, we only need you to send us the exact instrument or device designation or the Thomann item number. Once we have reveived this information, the case will be made for you within 2-3 working days. These are the cases you can choose from: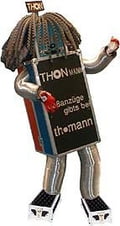 Have you still not found a suitable case? Do you need a completely costom-made solution? No problem!
Please measure your instrument or device very carefully. Attention- do not simply copy this information from your instruction manual. Draw up a sketch. Call our hotline to get an individual estimate. When you talk t the hot line, the case maker will also be able to draw on his expertise to help you in decide what the best possible solutions is and which additional features you might want to have included.