Varytec BAT.MotoLED Bundle 30cm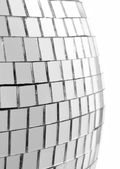 This product is in stock and can be shipped immediately.

Item number: 437430
sales unit: 1 piece
available since: 2018/04/12
Product Details
containing
Varytec BAT.MotoLED
Mirror-Ball Motor with Integrated LED Lighting
Suitable for mirror ball up to max. 40 cm diameter (mirror ball not included)
The all-in-one solution for every party cellar, bar or mobile use
Can be operated with AC adapter or the supplied battery
In addition, a second battery can be used for even longer operation (Art.#385488# - not included)
Three 6 W multicolour LEDs placed around the mirror ball ensure even illumination and a colourful display of colours in every room
8 Selectable speeds of 0.73 to 30 revolutions per minute
Includes IR remote control
Technical specifications:
Light source: 3 x 6 W RGBW LED
Beam angle of the LEDs: 15°
Automatic programs and sound control
Dimmable 0 - 100%
Strobe effect
Battery life in automatic mode and maximum rotation speed: 3 hours (one battery) / 6 hours (2 batteries)
Charging time in the device: about 3 hours
Black metal housing with suspension loop on the top
Mains supply: DC 15V / 3A
Dimensions (L x W x H): 425 x 370 x 170 mm
Weight (without batteries and mirror ball): 2.18 kg
Varytec batTERY for bat-Series
Battery Pack
Suitable for the Varytec bat series
Voltage: 10.8V
Capacity: 1500 mAh
16.2 Wh, Li-ion
Varytec Mirrorball 30cm
Mirror Ball 30 cm without Motor
These mirror balls are extremely sturdy and the mirror facets are permanently held. Furthermore, the installation eyelet is securely anchored, which is especially important with mirror balls with a diameter of 40 cm and above. Please compare mirror ball specifications, in particular the material of which they are made.
The classic effect
Mirror ball with sturdy plastic core
High stability over continuous axis
Glued without gaps
Real glass facets : 10 x 10 mm
With installation eyelet
Motor not included
Diameter: 30 cm
Weight: approx. 1.850 kg
Caution! Adhere to BGV C1 (prev. VGB 70) accident prevention regulations during installation!
2x Stairville Keyring Ø 30 mm, 1,8 mm
Keyring
For mirror balls
Diametre: 30 mm
Thickness: 1.5 mm
Made of hardened steel
Nickel-plated
Related Products