Ape Labs ApeLight maxi - RoadSet of 6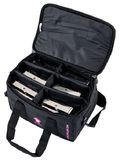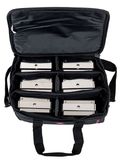 1 499 €
540 644,33 HUF
ÁFÁ-val · A szállítás díjmentes
Szállítás megközelítőleg

Hétfő, 30.11.

és

Kedd, 1.12.

közt.
A termék raktáron van és azonnal szállítható

Termékszám: 488565
Mennyiségi egység: 1 darab
Katalógusunkba bekerült:: 09.03.2020
Spotlight included: Yes
Construction Type: Up-Light
Type: Decoration
DJ-Effect included: No
Construction Type: Flat PAR
Controller included: Remote
battery powered: Yes
Number of LEDs: 3
Number of LEDs: 3
Stand included: No
power of the single LED: 15 W
Power of the single LED: 15 W
Colour mixing: RGBW
Case/Bag included: Yes
Color mixing: RGBW
LED Type: x-in-1
LED Type: x-in-1
Floor housing: Yes
Floor housing: Yes
Fanless: Yes
Fanless: Yes
remote control: Included
remote control: Included
wireless DMX: Yes
wireless DMX: Yes
Housing Color: Silver
Housing Color: Silver
Battery life: 14
A(z) HUF pénznemben feltüntetett árak elsősorban irányárak.
Tudnivalók a termékről
Set of 6 LED Spotlights with Built-In Battery and Internal Radio Module
With 6 ApeLight maxi spotlights, Ape Labs Universal SoftBag, remote control and power supply unit with power cord
Made in Germany
Suitable for a variety of applications, such as classic Up-Lighting or as a decorative element for glasses and bottles
Control via the Ape Labs 2.4 GHz radio remote control or via wireless DMX with the Ape Labs W-APE wireless DMX transceiver
Purchase includes: 6x ApeLight maxi, 1x ape labs radio remote control 2.4 GHz, 1x SoftBag, 1x power supply unit (120 W) with power cable
Suitable rain cover for ApeLight: Article no. #493961# (not included)
Note: Batteries are pre-installed during manufacture (NiMH).
Technical specifications:
3x 15 Watt RGBW LED
Beam angle: approx. 10°
Internal colours and programs with adjustable speed
Dimmable
Sound-to-Light with auto gain via the internal microphone or via the central microphone of the W-APE transceiver
Internal radio module for remote control and W-APE wireless DMX (4 DMX universes possible)
DMX individual addressing possible
4 Group management for control via remote control, W-APE or W-APP
Various DMX modes: 3 Channels (dimmer, program, speed)
4 Channels (RGBW 8-bit)
8 Channels (RGBW 16-bit)
Built-in battery pack (NiMH)
Battery life: 14 Hours, minimum
Splashproof
Electronics insulated to protect from temporary exposure to liquids
Load-bearing capacity of the surface: 70 kg
Housing made of high quality stainless steel
Electrical connection value: 100 - 240 V, 50/60 Hz, 120 W
Dimensions of ApeLight maxi: 13.5 x 13.5 x 6.5 cm
Weight per spotlight: 1.5 kg
Bracket dimensions: 14 x 12 cm
Softbag dimensions: 40 x 28 x 22 cm
Total weight: 11.5 kg (weight including the 6 x ApeLight maxi)
2890
Thomann ranglistás helyezés
A termék iránt érdeklődők az alábbi termékeket vásárolták meg nálunk
48% vásárlónk vette meg a terméket
Ape Labs ApeLight maxi - RoadSet of 6
Kapcsolódó termékek