Decksaver Pioneer DJ DJM-S11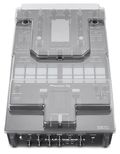 58 €
20 788,77 HUF
ÁFÁ-val, plusz szállítási költség
Csomagfeladás várható időpontja legkésőbb

Kedd, 11.05.
A termék raktáron van és azonnal szállítható

Termékszám: 513496
Mennyiségi egység: 1 darab
Katalógusunkba bekerült:: 24.02.2021
A(z) HUF pénznemben feltüntetett árak elsősorban irányárak.
Tudnivalók a termékről
Decksaver
Suitable for the Mastersounds Radius Two Valve
Protects against dust, dirt, liquids, and impacts during transportation
Milky, transparent surface
Made of polycarbonate
Dimensions (W x H x D): 27.2 x 43.0 x 3.5 cm
Weight: 0.5 kg
Note: Device is not included!
14799
Thomann ranglistás helyezés
A termék iránt érdeklődők az alábbi termékeket vásárolták meg nálunk
64% vásárlónk vette meg a terméket
Decksaver Pioneer DJ DJM-S11
Kapcsolódó termékek