Maxon OD-808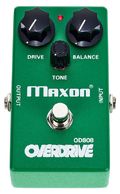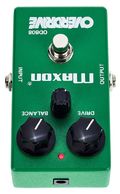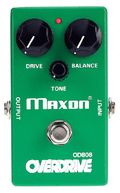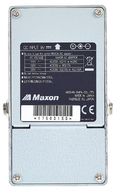 125 €
43 790,63 HUF
ÁFÁ-val, plusz szállítási költség
Csomagfeladás várható időpontja legkésőbb

Csütörtök, 24.06.
A termék raktáron van és azonnal szállítható

Termékszám: 152419
Mennyiségi egység: 1 darab
Katalógusunkba bekerült:: 08.05.2002
Overdrive: Yes
Distortion: No
Fuzz: No
Metal: No
A(z) HUF pénznemben feltüntetett árak elsősorban irányárak.
Tudnivalók a termékről
Effects pedal
The Japanese company Maxon has been going a long time, despite it never really being known to us. Meanwhile, word got out that the legendary Tubescreamer TS808 has long been manufactured by Maxon, and Maxon is now bringing virtually all of its old treasures back onto the market. Naturally that includes the "mother of all overdrives", the Maxon OD-808.
Similar in design to the earlier, manufactured overseas TS808, it also retains the legendary JRC 4558 D chip. Compared to the later TS-9, it sounds a bit softer and clearer - the "mid-knock" of the later Tubescreamer is less pronounced. For many, it is simply "the" Overdrive.
Reissue Series
Often copied, never equaled
Identical with the original circuit and incl. the JRC4558D chip
Characteristics: Natural sounding overdrive, similar to a tube amp
Unbelievably clear
Dynamic to play
Suitable power supply: Article Nr #409939# (not included)
3815
Thomann ranglistás helyezés
A termék iránt érdeklődők az alábbi termékeket vásárolták meg nálunk
31% vásárlónk vette meg a terméket
Maxon OD-808
Kapcsolódó termékek