QSC Singer-Songwriter Set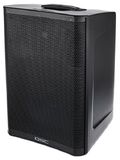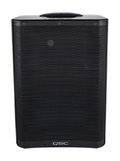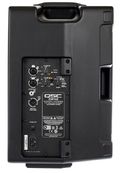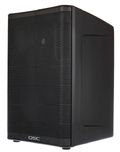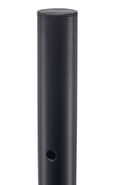 A terméket már megrendeltük, a következő napokban fog megérkezni hozzánk.

Termékszám: 453462
Mennyiségi egység: 1 darab
Katalógusunkba bekerült:: 19.11.2018
more than 150 people: Yes
more than 300 people: No
Incl. Mixer: Yes
Incl. Subwoofer: No
Active Speaker: Yes
Line Array / Column: No
A(z) HUF pénznemben feltüntetett árak elsősorban irányárak.
Tudnivalók a termékről
Bundle offer comprising
2x QSC CP12
2-Way Full-Range Active Speaker
Speaker setup: 12" Woofer, 1.4" Compression driver
Power: 500 W RMS / 1000 W peak
Class D amplifier module without fan
Dispersion pattern: 75° Axisymmetric
Monitor angle: 55°
6 EQ presets
High-performance DSP - Corrects non-linear distortion
Frequency range (-10 dB): 47 - 20,000 Hz
Max. level (@1 m): 126 dB
Limiter LED/Protected circuit design
Channel A input 1x XLR/Jack combo socket, Line input, Gain control (A+C input)
Channel B input 1x XLR/Jack combo socket, Mic/Line input, Gain control
Mic boost switch: +25 dB for channel B
Channel C input: 1x 3.5 mm Stereo jack (gain/signal LED via channel A)
3-Channel mixer: Mix output (post gain): 1x XLR
35 mm Stand flange mount
Speaker grille made of powder-coated steel
Scratch-resistant plastic housing with ergonomic handle design
Dimensions (H x W x D): 516 x 350 x 323 mm
Weight: 13.7 kg
Suitable accessories (not included):
CP12 Bag available under Article Nr: #449717#
CP12 Outdoor protective cover available under Article Nr #449719#
CP12 U-Style yoke bracket for vertical and horizontal installations available under Article Nr #449718#
Note: Register your speaker with QSC to extend its warranty to 6 years.
RCF M 18
Digital Wireless MixerDesigned for the ambitious musician and small bands, the RCF M18 is the first digital mixer to have various realistic amp simulations for guitar and bass on board.
It has 18 channels and can be controlled remotely via WLAN. With three different EQ simulations in each input channel, 11 realistic guitar and bass amp simulations including two Hi-Z connections, up to 19 effects that can be used simultaneously, and its internal audio player / recorder, nothing is left to be desired.
Six balanced AUX outputs are available as monitor paths even for larger applications and the headphone jack can be used as an additional stereo monitor path.
The integrated WLAN router with two internal and one external antenna encrypted with WPA / WPA2. Alternatively, an Ethernet connection is also available. In addition, audio files of the formats WAV, AIFF and MP3 can be recorded and played via the USB2.0 port.
18 Input channels
8 Microphone inputs (2 combo sockets)
10 Line inputs, 2 of them with Hi-Z
6 Balanced outputs via 6.3 mm jack
Stereo main out via XLR
6 Buses
19 Simultaneous effects
3 Different EQ types in the input channels
11 Integrated realistic Overloud and Markbass amp simulations for guitar and bass
Internal audio player / recorder
The headphone jack can be used for personal monitoring
MIDI in / out
Dual footswitch input
Integrated Wi-Fi dual-band router (2.4 and 5 GHz) with 2 integrated antennas and additionally supplied external antenna with WPA2 encryption
Ethernet connection
USB2.0 connection for recording and playback (wav, mp3, aiff)
MixRemote app available for free on iOS and Android
System requirements WLAN remote control via iPad (not included); iPad from version 2, iOS version from 8.1, "MixRemote" app (available free of charge from the AppStore)
Matching rack mounts: Art.#393409# (not included)
Suitable protectors: Art.#393435# (not included)
Suitable bag: Art.#393372# or Art.#492447# (not included)
2x Millenium BS 2015 Round Base
Steel Tripod
With large, flat cast round base
Adjustable in height from 1100 to 1810 mm
Base diametre: 450 mm
Base height: 24 mm
Top tube diametre: 35 mm
M20 thread at the bottom
Maximum load capacity: 20 kg
Weight: 10.6 kg
Cordial CAM 9 BK
Professional Microphone Cable
Length: 9 m
Original Neutrik NC 3 FXX-BAG + NC 3 MXX-BAG XLR plugs
Cable type: CME 220 Black
Thomann hook & loop cable tie included
Colour: Black
Cordial CAM 6 BK
Professional microphone cable
Length: 6 m
Original Neutrik NC 3 FXX-BAG + NC 3 MXX-BAG XLR plug
Cable type: CME 220 Black
Includes hook and loop fastener
Colour: Black
99156
Thomann ranglistás helyezés