7. Hybrid Sets
A variation of this theme and a most interesting one is the hybrid set. Two routes are possible.
Take a standard acoustic set and put on mesh heads
(please don't confuse this with mesh head pads – we are just talking mesh head - drum heads.)
The resonant heads can stay in place since there is no noise when playing. Now the shells or rather the hoops are fitted with triggers and they get connected to the drum module of your choice. Cymbals of course do not get triggered. Two overhead microphones are sufficient in most cases.
The advantage of such a set up is mostly live –on stage. The mixer only receives the signal from the module and the two overheads. This way you can achieve a fantastic sound for the FOH in next to no time. Time consuming sound checks are a thing of the past. You still have your conventional big drum kit in front of you, still looking good on big stages.
Pads und Drums
The second approach is to integrate certain elements into your acoustic set. A long time favourite for instance is to replace the kick drum with triggers. In this scenario the trigger is not mounted onto the drum but is connected to the kick pedal. Not only does this away with tuning of the kick drum –but also makes for a super fast kick pedal. The beater does not really produce a sound or hits the drum head allowing the drummer to play light and fast. (Dave Mackintosh of Dragon Force for instance uses an Iron Cobra pedal, KD7 trigger pad and a TD20 module. The two kick drums are just decoration.)
Furthermore you can easily integrate a tom or snare pad into your set and trigger a certain sound on it. A classic would have to be claps. As a variation you could use this pad as a side snare. Your imagination is the limit here.
Persussion Pads
Also very interesting are so called percussion pads. They are drum modules with a number of pads integrated. What you get is a complete e drum set in the size of a laptop. Because of their compact size it is easy to find a space for them in your set-up.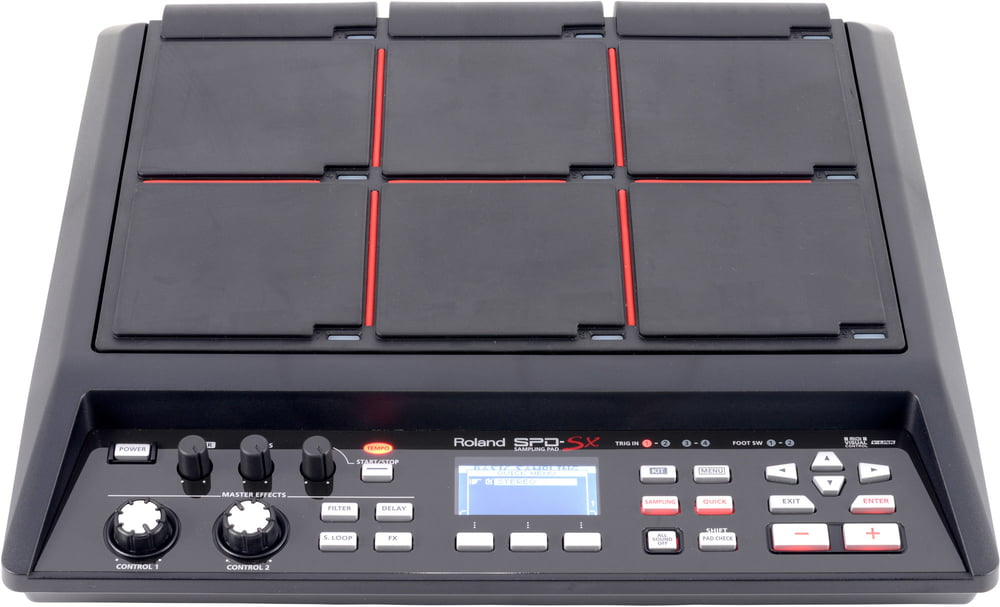 If your percussion pad also can take samples or connects to a PC for sound file upload you can - in an emergency - send your fellow musicians home.
Seriously, by integrating such electronic components into an acoustic set new roads open up for the modern drummer. Shadows Fall's drummer Jason Bittner, for instance uses a sampling pad as an integral part of his set-up. The pad has the task to play the intros to the songs while on stage. Hit it with a stick once and off you go.