3. The components
The pads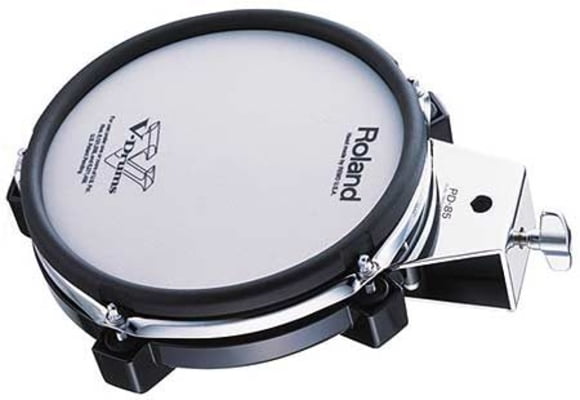 Drum pads are 4 to 5 centimetre high, look like a plate and are coated in rubber. Inside you either have piezo (piezoelectric transducer) or a special resistor (FSR force sensitive resistor). When the pad is being triggered - meaning you hit it with a stick - the voltage changes and the module translates the resulting signal into a sound that is associated with the according pad.
The diameter of most pads is around 10. This means, that they are smaller than most acoustic drum shells and can hence be positioned more readily. The feel is identical on all pads no matter if they represent a 10 rack tom or a 18 floor tom. This gives you the same excellent rebound for all toms equally; a sheer impossibility on an acoustic set (ok JoJo Mayer can do it all right :-))
The trigger inside the pad is dynamic - if you hit the pad hard it's loud and if you hit it just a bit it is quieter. On top of that there are more sophisticated pads that have different zones. The tone played depends on where you hit the pad. These high end pads however, need the according high end module in order to resolve the signal. A cable connects the drum pad with the module. For this standard phonon or XLR cables are used.
Mesh head pads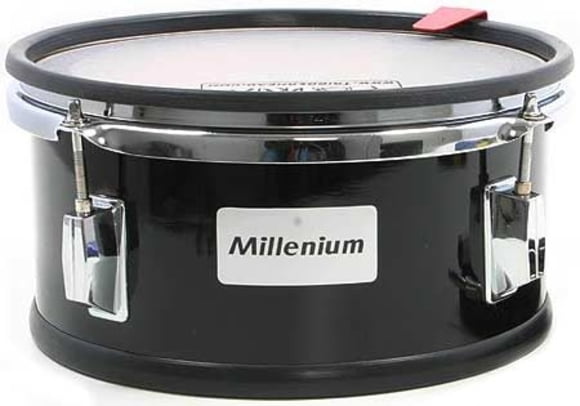 Many electronic drum sets are already using a mesh head pad for the snare drum. Mesh heads look like a drum head made from a fine mesh –hence the name. When played , they are even quieter than rubber pads and also excel with their realistic feel.
Their main advantage however is the more undemanding playability. Rubber pads do have a fantastic rebound but the hard surface effects the joints when you play them for a while. You can influence that with a correct stick technique –but you will still feel it. Mesh heads are more accommodating and do also have an excellent rebound. Top sets not only have a snare mesh head but also all toms are equipped with them.
| | |
| --- | --- |
| Tip: | ProMark has developed a special stick for rubber pads which is shock absorbent, resulting in less strain in your joints. |
Tom pads
In most cases tom pads are mono pads. The trigger serves one sound this of course dynamically. Beginner sets have rubber pads for the toms. This is acceptable since more playing is done on the snare. In more high end kits all toms are mesh heads. Here they can be stereo, meaning they have an extra rim trigger.
Snare pads
Snare pads are stereo i.e. two different sounds can be played. A reasonable snare pad has to have rim shot capacity.
The rim of the snare pad has it's own trigger and accounts for the rim shot. Many beginner sets already offer a mesh head pad for the snare. This has to be welcomed - better play and less fatigue for the drummer.
Cymbal pads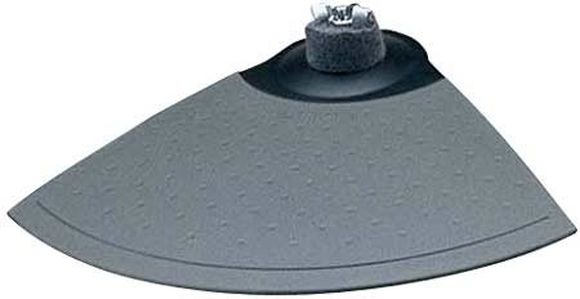 Cymbal pads are rubber coated and have a different shape to tom pads. They come in actual cymbal shape, round, or as a cake like segment. The suspension is more or less the same as that in real cymbals, more or less loose, resulting in a similar stick feel.
Really good cymbals have multi zones allowing to play bell, rim, edge etc on one pad, depending on where you hit it. This way ride, crash, bell can actually be played in an almost realistic fashion. Good cymbal pads can also be choked. When moving into the professional range the cymbal pads become more sophisticated and do even look more like actual cymbals. These professional pads however need to be combined with the according drum module for their full potential.
HiHats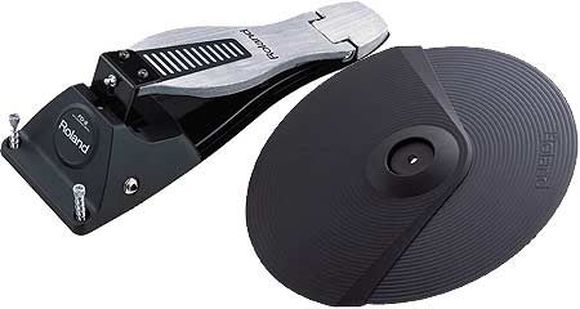 The hihat is a special cymbal pad. In entry level kits, the hihat looks just like a tom pad. A controller pedal is connected and the sound changes according to the pedal position. Since the pedal is connected by a cable, independent from any hardware, it can be positioned perfectly.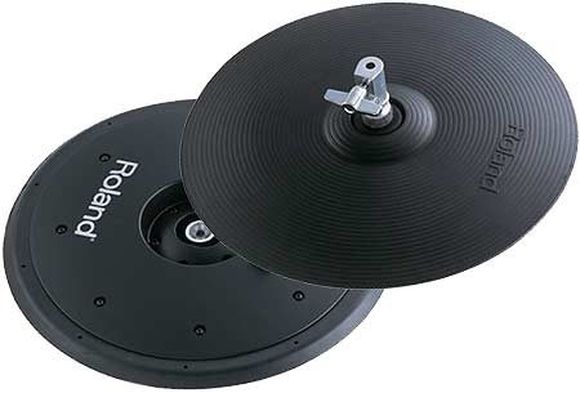 More advanced electronic sets use a conventional hihat stand with two electronic cymbal pads that can be opened and closed. The control, feel and sound on these hihats is noticeably better.
In general cymbals and in particular the hihat are the weak spots of an electronic set. Conventional cymbals simply sound better and have a wider dynamic range. Professional electronic kits offer expansion modules to counter this problem. These however are still pretty expensive.
Kick drum pad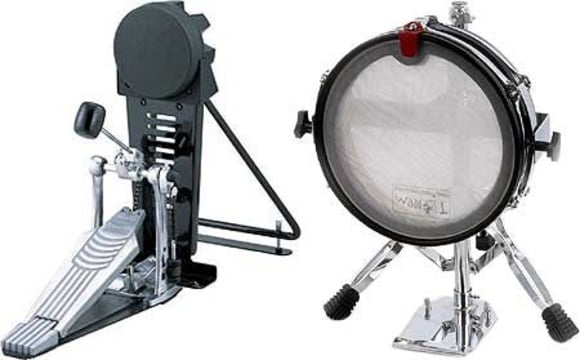 The kick drum pad stands upright and is played with a standard kick pedal. Most kick pads are wide enough to accommodate a double pedal. Nevertheless you have to check whether the pad is suited for two beaters or not. The trigger inside has to be built in such a way, that both beaters can serve it. The manufacturer specifies in most cases if the pad is fit for double kick or not.
Rack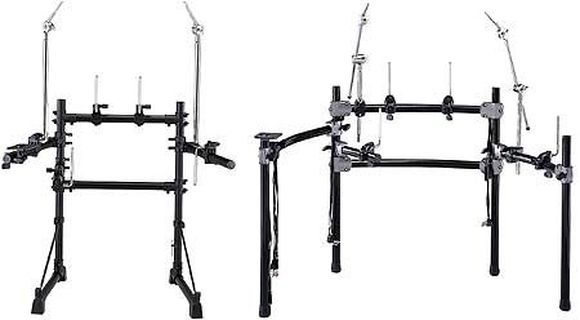 In an electronic set the module, snare , toms and cymbals are suspended from a rack. Since an electronic set builds smaller compared to an acoustic set the rack can also be smaller. Two legs joined with cross bars holding snare , toms and cymbals and a cantilever left and right for floor tom on one side and hihat and module on the other are sufficient in most cases.
For big professional kits the rack is very similar to the ones used for acoustic drums. These big sets obviously have to accommodate more components.
Standard racks for e drums are easy to set up and require only little space. Some models run the cables connecting pads and module inside the tube. This is a very nice feature. The cables don't get lost, do not get damaged easily and the whole thing looks tidy.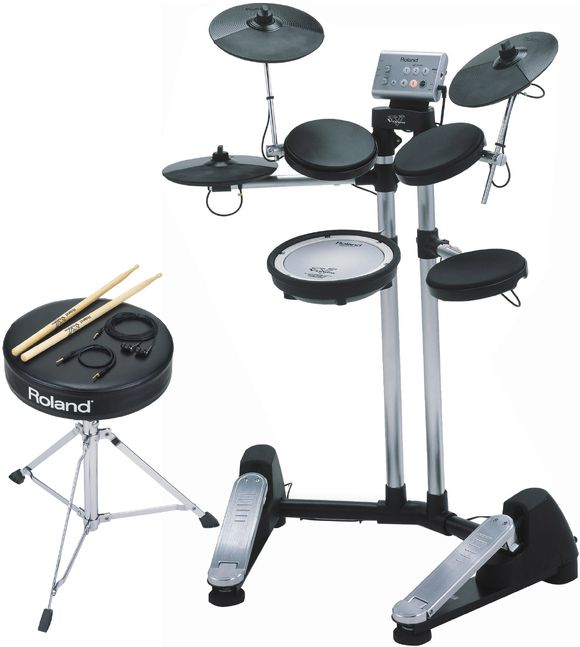 A further step in this direction is Roland's HD1
This entry level kit not only runs the cables inside the central column but also integrates both hihat and kick pedal into the hardware. This compact concept makes the HD1 the most innovative on the market.
Drum racks for e drums can of course be expanded with modular components - just like their big cousins.