4. Input Secton
All available multitrack compact studios have one thing in common: They seek to be, more or less, self-sufficient systems. This approach makes it possible to accomplish all recording, effects processing and editing steps without the help of an external device and the basis of that is an input section with a mixer. The equipment varies from device to device but generally the larger 16, 24, and 32 track recorders have more advanced mixers than the smaller 8 and 4 track versions. Similar can be said of the input section. Semi-professional and professional devices offer, in addition the standard connections, symmetrical XLR inputs with phantom power, allowing for the use of high quality condenser mics. Side note: Dynamic mics don't require phantom power. Separate effect channels are also standard on professional multi-tracks.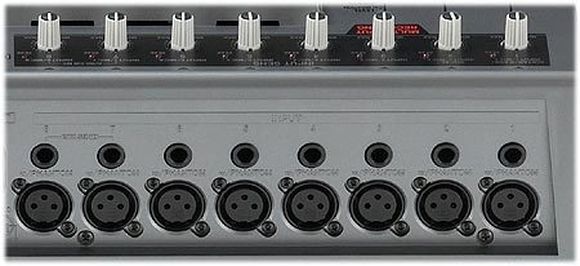 But don't worry: Even the more compact devices (8 and 4 track) are sufficiently outfitted for good sound and performance, still yielding impressive recording results! Some 8 track recorders even come with a balanced XLR input and phantom power! Making it worth your time to check the technical data.
Digital Editing
Just as you are able to manipulate text in a word processor, you can also cut, copy, paste and insert audio tracks on multitrack recorders.
Location Points
These enable you to visually mark specific points of a song such as verses and choruses, so that you can quickly and conveniently navigate around without having to continually search through– highly convenient when used in conjunction with copy and paste functions.
Track Bouncing
If you're running out of tracks, you can mix several of them down to one or two in order to free them up. This is a handy trick, but care should be taken, as unless you're using virtual tracks, you cannot later remix.
Punch In/Out
This feature is often used to replace mistakes or re-record parts of a track that could have been performed better. It lets you enable and disable recording while playing back the song to record the part on the fly. Also sometimes referred to as 'dropping' in/out.
Auto-Punch
Short for 'Automatic Punch In/Out', it makes punching in and out both easier and more precise. Typically available on higher-end multitrackers, the feature allows users to set 'in' and 'out' recording points, which will cause the recorder to automatically drop in and out of record.
Mute and Solo
Pressing a track's mute button will simply remove its output from the mix until the button is pushed again. Soloing a track produces the opposite result - all channels are muted except the one being soloed.
Sample Rate
The sample rate is a measure of how many times per second the source material is being 'sampled'. Sample rate affects the frequency response of the final recording - the highest frequency that can be accurately represented is just under half the sample rate. Generally speaking, the higher the sample rate, the better the sound quality, but the most sensible sample rate to use will depend on your system - the higher the rate, the more storage required, and sometimes the lower the track count. The law of diminishing returns definitely applies here – 96kHz does not sound twice as good as 48kHz!
Mastering
The process whereby recorded material is taken from the multitracker and prepared for duplication in the format of the final release. This can include any or all of the following - equalisation, compression, limiting, normalisation, stereo widening, fades, and simply arranging the songs in the desired order.
Non-Linear Editing
The editing of audio on a system that has the ability to randomly access data, with the upshot that the user can define a region and move it forward or backward in relation to other regions.