6. Bass combos
The name says it all: we are talking about a combination of headpiece and speaker in a single casing. Bass combo casings are usually smaller than those of separate systems, and often lighter, too. So, if you already know you'll be travelling a lot with your equipment, a combo might be the right choice for you. Ideally, you will be able to carry your bass combo by yourself and won't have any problems stowing it away in the trunk of your car, for example.
There is one major drawback, however, and that is that the power reserves of a bass combo are relatively limited as a rule - they usually do not approach the power of stand-alone heads.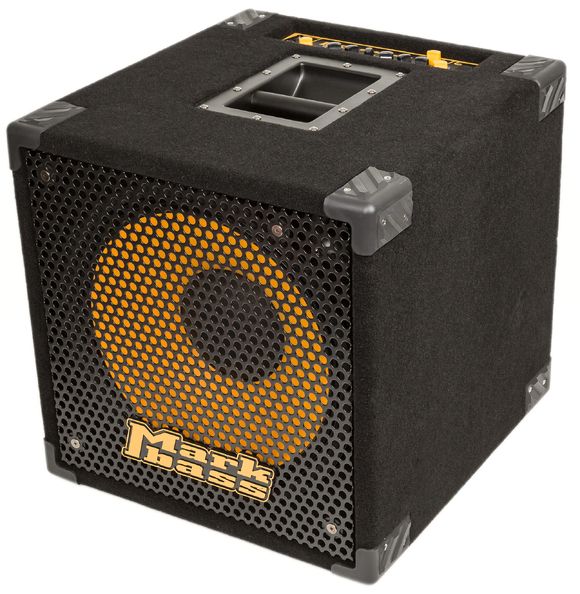 Range of use:
The characteristics indicated above make bass combos perfectly suited to practising at home and to bands which play at moderate volume levels. Still, there is considerable variation: on the one hand, there are small, compact bass combos which are mainly intended for use in practice at home. These amps, unsurprisingly also known as practice amps, are often no more powerful than 10 or 20 Watts. This should suffice to "pump up the volume" while practising at home, since there are usually no other loud instruments your bass would need to "battle" against.
Bringing such an amp along to band rehearsals, however, would definitely prove frustrating pretty much immediately. Given the volume produced in the context of a full band, such amps rarely stand a chance.
Bass combos that can hold their own in medium-volume rehearsals and gigs should come with no less than 150-200 Watts power, with the general advice that more is indeed better in this respect (case in point: headroom)!
Speaker configuration
The output of the amplifier part of the bass combo is only one important factor; the speaker configuration is another. It should be obvious that a single 10-inch speaker will not stir enough air to make your bass heard in a band. Two 10-inchers are a good foundation, and many bass combos do indeed feature two such sound converters in their casing.
Combos may also feature a 12-inch or a 15-inch speaker. The advantage here is that these speakers produce greater bass pressure by virtue simply of their size, since their membrane impacts more air.
Additional speakers
Some bass combos allow for connecting an additional speaker, which can definitely assist in overcoming too-low volume levels, since more speakers necessarily also mean "more bass". If you have the regular use of a rehearsal studio, for example, you can leave the extra speaker there and take only the bass combo home for practising. So keep an eye out for the additional speaker connection when buying a combo, it may prove useful!
General considerations
If you think you'll need to travel with your bass combo frequently, you should make sure when choosing one that the manufacturer has taken care to protect all components that are liable to break as well as possible. Controllers should ideally be recessed, as this stops them from breaking off quite so easily should you accidentally collide with a wall or a door frame. High-quality well-balanced handles which allow you to carry the combo comfortably are also necessary if you want to enjoy the full convenience of your equipment. Furthermore, the speakers should be protected by a sturdy grille which of course mustn't squeak or rattle when subject to the casing's vibrations that occur in use.
Prodotti con le migliori valutazioni