2. Heads - Solid State or Valve?
Solid State or Valve?
The headpiece and speaker combination (the best amp is useless without a speaker, after all) is probably the most common way of getting the sound of the bass to listeners' ears. Some musicians feel the valve sound is warmer and livelier, which they ascribe to the typical so-called harmonic distortion in the overtone range that comes with valve amps. But there is such a wide range of solid state amps available these days that we should be careful not to rely on overcome stereotypes about their sound.
Valve amplifiers also require more care and attention in handling and maintenance (e.g. exchanging the valves), and they are by necessity a good deal heavier (the classic AMPEG SVT headpiece weighs in at a hefty 45kg!), which is why solid state amplifiers nowadays clearly dominate the market, as they are generally easier to maintain and significantly lighter.

Hybrid amps
For a couple of years, hybrid amps have been available - these are an attempt at combining the best of both sound worlds (solid state and valve). Using preamp valves, they result in the typical warm, slightly smoky sound which is then combined with a solid state amp. The advantages are obvious, namely true valve sound at a lower weight and reduced maintenance effort! Since the sound's tube share is usually set with only a single control, even beginners can adjust the setting easily.
This is therefore an attractive option resulting in beautiful sound, even if some dyed-in-the-wool valve purists still maintain even today that the sound of a true full-valve amp is incomparable and cannot be successfully approximated with a hybrid. But no sweat - the easiest way of finding out whether this is true is direct comparison. And at the end of the day, the decisive factor is your own taste anyway, in addition to the environment in which you want to use your amp. These considerations will lead you to opt for a valve, solid state, or hybrid amp for your bass.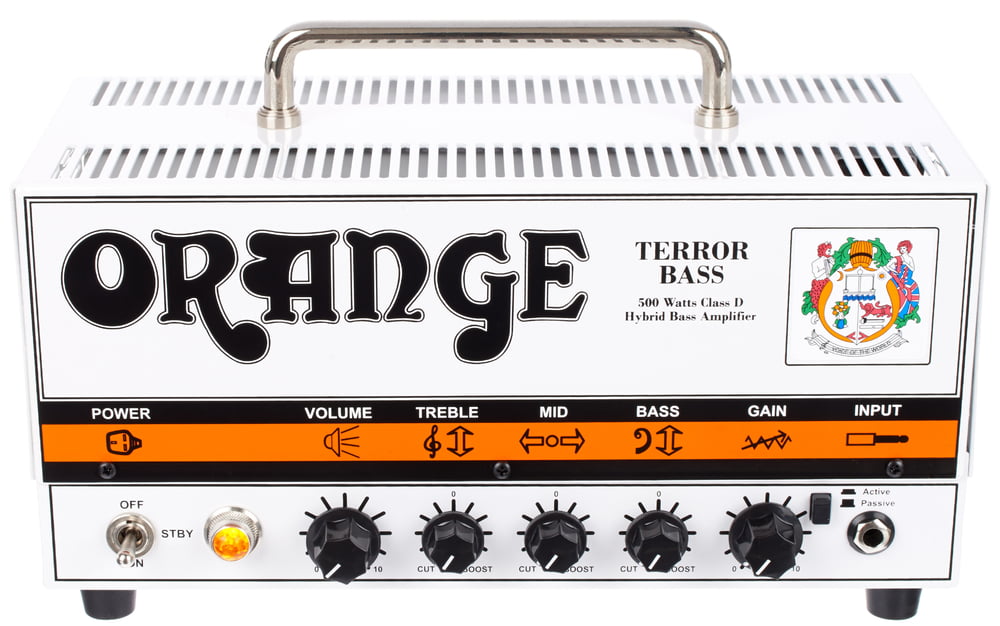 How many Watts?
Unlike guitar amps, bass amps are rarely required to go to the limits of their power. The important criterion is rather that your headpiece has plenty of so-called headroom, which is the power reserve necessary to push out the lower frequencies with the necessary ease. It generally therefore always makes sense to invest in a more powerful model, even if your band doesn't play all that loud. If you play in a medium-volume band, you should thus make sure that you go for at least 350 Watts for your head, while valve amps achieve comparable volumes at less power. If you play at lower volumes generally, for example with percussion and an acoustic guitar, you'll probably find ca. 200-250 Watts sufficiently powerful. And a solid state amp with 500 Watts should be enough to take the full volume of a hard metal band. But as we've already said: there's no such thing as too much headroom, which is why some bass players go for heads with 800 Watts and more.
Peak and RMS:
Warning! There are two different values that are used to specify the wattage of amps. "Peak" only refers to a short-term peak in output (in the millisecond range) of which the amp is capable; it is therefore never really meaningful. Unfortunately, this number is popular with manufacturers who use it to make their products seem more powerful and thus more attractive to customers. The nominal power of the amp, given in RMS (Root Mean Square), is the only actually significant information on an amp's power, as it is a more realistic representation of what it can do!
Prodotti con le migliori valutazioni