10. Caring for your Instrument
Wood Care
If you take proper care of your wood instruments they should last a lifetime. Check with the manufacturer's recommendations first, but if your drum has an untreated natural wood finish any high quality wood polish should help keep it looking good; you may prefer to treat it with a product containing linseed oil or beeswax. High gloss and painted drums can stay beautiful with the help of just a damp cloth. Avoid using harsh chemical cleaners with any drum.
Skin Care
With natural skins doing nothing can be the best course. If you won't be playing your drum for a while or if you expect radical temperature and humidity changes try loosening the head a little. Avoid using products such as baby oil, olive oil or cocoa butter as natural drum skins generally don't like moisture. However, if you play a lot you should treat the skin on your hands with moisturizing products since they may become dry as moisture is transferred from your hands to the drumhead.
Cases
Instruments are valuable articles, not only because of their price, but also, because one can become emotionally attached to them. If you want to enjoy your instrument for many years and plan to take them to gigs, cases are necessary. A case can help your instrument look beautiful for years to come; the appearance of your equipment makes an impression both on fellow musicians and audiences. Cases not only protect equipment from bumps, gouges and nicks, they can also reduce the effect of rapid temperature and humidity changes. Leaving an instrument in its case after moving it from one condition to another can allow a more gradual change to occur. Soft bags can offer inexpensive protection to the wood and skin, while sturdy hard cases made from plastic, wood, or fibre cases offer more protection from bumps. If you eventually upgrade from soft to hard cases you can use them both together, putting the drum first in its bag and then inside the hard case for extra protection.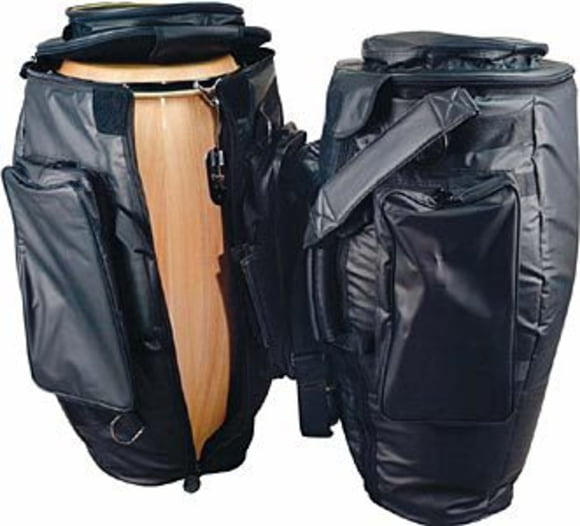 Producten met de beste beoordelingen