2. Introduction
The conga comes from Cuba but originated in Africa. Most people believe it originated in the Congolese Bantu area and is based on that region's conical shaped makuta drum. Its name may be derived from its Congolese origins. Since its appearance of the tumbadora (the original Spanish name of the Conga) had a simpler appearance to the modern version of the drum. A head was stretched over the wooden shell and nailed into place. It could only be tuned by using heat to tighten the head. Modern drums often have aesthetically beautiful finishes and tuning systems that use hoops and tension screws to adjust the head tension.
Though we commonly refer to these drums as congas, the term conga was originally used to describe the rhythms and drums played during the Cuban carnival celebration. The conga is normally played with the fingers and hands, and more rarely with sticks. A musician who plays the congas is referred to as a conguero. Most congas stand about 75 cm from bottom to head though there are three common sizes of conga drums determined by the head diameter.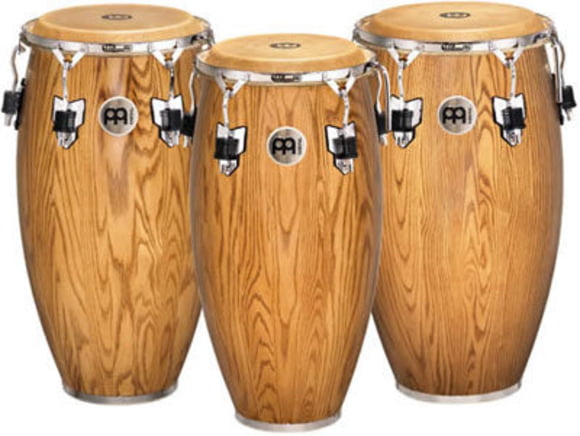 The largest drum produces the deepest pitch and is called the tumba; the medium-sized drum is called the conga; the smallest and highest-pitched drum is named the quinto. This small drum is often used for soloing over the rhythm of the other instruments in a Latin percussion ensemble. However, the medium-sized conga is the most musically versatile drum of the three. The standard sizes of these drums are 12 1/2", 11 3/4", and 11" in diameter (1 inch = 2.54 centimetres).
Conga drums are often sold as pairs (a conga and a tumba) since these sizes are the most versatile and can cover musical styles as diverse as pop music, salsa, Latin jazz and Afro-Cuban music.
Producten met de beste beoordelingen