3. How the trumpet works
Vibrating air amplifies the body's sounds
You generate sound from all wind instruments by making the air column inside vibrate. This happens when you blow into the instrument through the mouthpiece while tensing your lips. The tongue also helps in this; like a valve, it controls the beginning and the duration of the sounds.
A fundamental rule is: the bigger the instrument, the longer the air column and the deeper the sounds generated. The smaller the instrument, the shorter the air column and thus the higher the sounds generated. Furthermore, the stronger you blow into the instrument, the louder the sounds you will generate.
The trumpet is both the smallest and the highest brass wind instrument. Its narrow gauge (about 11.5mm) over a total tube length of about 1.30m produces bright and brilliant sounds. All sounds of the harmonic series can be played merely by altering the tension in your lip muscles (relaxation = low sounds, greater tension = high sounds)
What do you need the valves for?
All natural overtones can be played on the trumpet without using the valves. Although the overtone series contains a lot of sounds, especially in the upper ranges (which are quite difficult to play, though), you need to resort to a technical trick if you want to play diatonically or even chromatically.
Every instrument comes with its own mechanism to achieve this. A trumpet has the valves (piston or rotary valve), for example, whereas a trombone only has the slide.
The trumpet's three valves allow the player to lower the tuning of their trumpet by a single (2st valve), two (1nd valve), or even three (3rd valve) half tones. If the valve is depressed, the air flows through the corresponding valve slide and the air clumn is thus lenghtened. This means that all sounds of the chromatic scale can be played. This mechanism was invented in the late eighteenth century and allows the trumpet to be played very fluently and elegantly, which inspired the composers at the time to write truly virtuoso trumpet parts (e.g. Joseph Haydn, Concert in E flat major).
Special effects can be generated by depressing a valve only half-way (half valve); in combination with embouchure and breathing, many different effects and sounds can be produced, ranging from the blue note in jazz and blues all the way to a horse whinny in the circus band.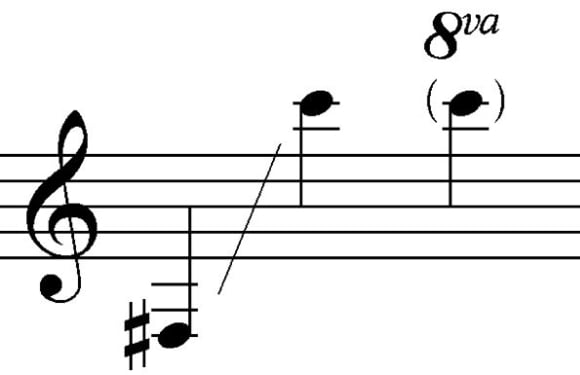 The fingerin (valves 1-3) is indicated above the musical notation. Notes:
The ranges

Low range: F-sharp F-sharp'
Medium range: G F-sharp
High range: G C'''

Range: there is no upper limit to this range, especially in jazz. It is evenpossible to play sounds beyond C
Producten met de beste beoordelingen