7. Quality criteria
Hand-crafted or industrially produced
Trumpets may be made by hand or industrially. The workmanship on handmade instruments is usually better than on machine-produced ones, and the price is correspondingly higher. But good-quality industrially produced trumpets are available for beginners at very reasonable prices. Apart from good workmanship, clean intonation and an easy response are important criteria when choosing your trumpet.
Materials and finishes/coatings
The most frequently used metal in brass wind instruments is, of course, brass. Nickel silver, a brass alloy with 10-15% nickel, is often used to coat instruments, as it is particularly resistant to chemical influences. Other finishes include transparent varnish, gold varnish, colour varnish, silver, gold, or nickel.
Nickel, silver, and gold brass are used in those parts of the instruments for which aesthetic and artistic criteria are important. Tin and lead are used as soldering materials. The sheet thickness of the material your trumpet is made of should be about 0.35mm to 0.5mm.
Nickel-coated brass is frequently used in valves and pistons. You can recognise it easily by its silver coating. Sometimes, non-corrosive stainless steel is also used for the valve casing. The highest-quality valves are Monel valves, which consist of a brass alloy containing about 40% nickel.
The mouthpiece
The choice of the correct mouthpiece is decisive for your success in learning to play the trumpet. You cannot underestimate the influence the execution of the mouthpiece has on the response and - above all else - the sound quality.
Other factors, such as cup depth, cup diameter, and bore need to be considered very carefully - ideally, you should consult a qualified teacher.
The bewildering array of mouthpieces on offer allows you to make an entirely individual choice. The mouthpiece simply has to suit your needs like a lid fits its pot. You'll need to kiss many frogs before you find your prince there..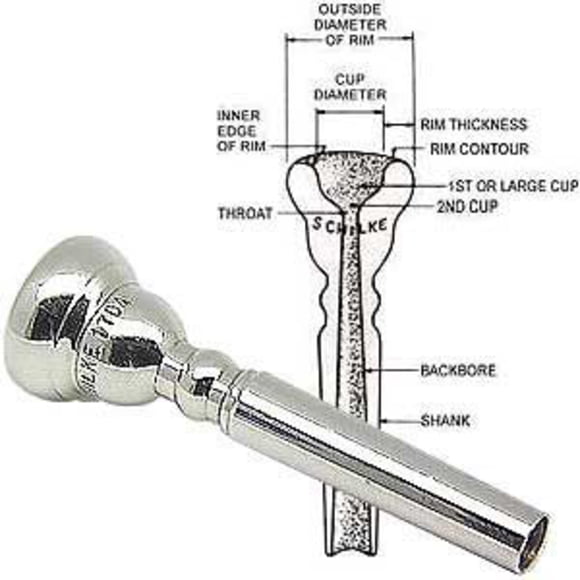 Producten met de beste beoordelingen