6. The instrument for me?
Not everyone can become trumpet soloist in a symphony orchestra or lead trumpet player in a big band, of course. But the many different opportunities the trumpet offers those who play it means they can choose among a wide variety of uses.
Many brass bands are on the lookout for new and enthusiastic members, school orchestras are always searching out new talent, and competitions are the perfect stage for young trumpet players to present their art to interested audiences and judges. Trumpet players are in demand in marching and folklore bands, too, and more and more of these trumpet players are women. Apart from the purely musical aspects, playing a brass instrument comes with a host of very positive "social side effects", which shouldn't be neglected. Brass instrument players are generally thought to be rather outgoing and are deeply involved in the cultural lives of their communities.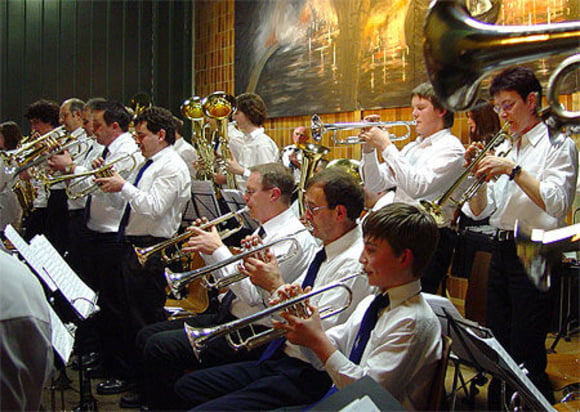 Physical requirements
Even seven- or eight-year-olds can begin learning to play the trumpet. A complete set of teeth is a prerequisite; the incisors should already be the permanent teeth. Braces or brackets are not an obstacle.
Apart from some strength and a good set of lungs you need stamina and patience. Playing the trumpet means using some muscle groups around your lips which are not generally important in everyday life and are therefore correspondingly weak. Furthermore, you should be able to breathe comfortably and your diaphragm needs to be intact.
Embouchure is essential
As in all other brasswind instruments, the players generate vibration by tensing their lip muscles. The mouthpiece simple serves to transmit this vibration to the air column inside the istrument. A great degree of tension, together with high air pressure, is the prerequisite for playing high notes. The lip muscles, not used to this exertion and tension in their everyday lives, tire over time. Proper embouchure, i.e. continually training the lip muscles, has a decisive influence on the player's stamina, the sound of his playing, and his ability to reach the high notes. Furthermore, the exact position of the mouthpiece on the lips, which depends both on the instrument and on the player's individual techniques, plays a decisive part in the sound quality and the stamina.
This is because a brasswind instrument can only manipulate and amplify what goes into it. The vibrating air becomes a sound only provided that the amplifier – the trumpet – is used correctly. So, if you want to turn brass into golden sound, embouchure, intonation and breathing technique must become one.
This is why the following is especially true for the trumpet: regular practice is the foundation for good technique and stamina.
And this is how the trumpet can become a lifelong faithful companion to any musician.
Literature
If you are not shown the porper techniques of breathing and articulating and proper prosture, you get used to doing it wrong and will sooner or later reach a point beyond which you simply cannot progress (and this is when it stops being fun). This is why we strongly recommend long-term instruction at a music school and practice of techniques with established manuals aided by fully qualified instructors. Ensemble practice is also a key component of learning an instrument. From duets to full orchestras, trumpets are found in every kind of ensemble and genre. There are innumerable volumes of sheet music available to practice playing in concert, either as original compositions or as arrangements for particular instruments. For jazz, improvisation and your individual sound is extremely important, of course. We only have to look at the many famous trupmet players to see how wonderful it is to make your trumpet speak, rejoice, or cry.
Producten met de beste beoordelingen