2. Through the ages
A brass wind instrument through the ages
The trumpet has a very long history to back it up, and over this history it has undergone changes more dramatic than almost any other instrument. It is one of humanity's oldest instruments, originally used for signalling in religious ceremonies and military action. Its sound is said to have been powerful enough to topple even the mighty walls of the ancient city of Jericho on its own.
The ancient Egyptians already had long bronze and silver tubes through which they blew and which are the point of origin of the development of the trumpet. The ancient Greeks and Romans, too, had trumpet-like creations. Although they were not bent, they did feature a mouthpiece and a cup. The long trumpet, also known as the angel trumpet, was capable of producing a significant harmonic series.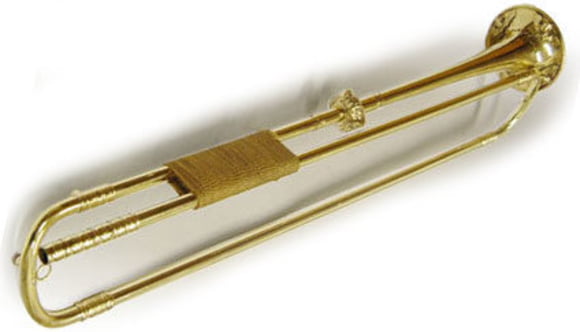 The most important event in the modern development of the trumpet is therefore probably the invention of the valve in ca. 1813. Using rotary valves, it was now possible to play a scale in half-tone steps on the trumpet. Francois Périnet finally invented the type of piston valve which now bears his name. The baroque natural trumpet with a single coil was about 2.4 metres long, with a diameter of its cylindrical tube of about 1.2cm. As the precursor to the coiled trumpet (two bows of 180°), this is the shape in which the trumpet entered art music. Endeavouring to make the trumpet more chromatic, inventors spent great effort on finding ways to increase the instrument's range - for example, by using the hands in the "stopped" trumpet, exchangeable u-shaped bows (invention trumpet) or moveable lead pipes. But these solutions did not provide for satisfactory sound quality. Up to the later Middle Ages, the range of natural trumpets extended only over the first four natural tones, all of which were at a relatively low pitch.
The trumpet is therefore the instrument which has undergone the most radical change over time. The continuous further development of its construction and, related to this, the playing techniques, have already made it an indispensable lead instrument all over the world. And this development has not reached an end yet: the trumpet is making its way through modern music, creating rhythmic sound bites and electronic passages, showing for all the world to hear that there is no end to its possibilities of expression.
Producten met de beste beoordelingen