9. The Background
Orff's Instrumentarium
Orff's approach was as follows: There is insight in the fact that music and dance are elementary forms of expression for the while person, of all of his bodily, mental and spiritual strength, that speech, dance and music are for a child an undifferentiated sphere of activity, that from the very beginning, singing is connected with playing instruments, and that the playback of heard or noted music or dancing in traditional forms also includes self-discovery and design. In the years of development of the Orff School and through the collaboration of many professionals around the world, it has been proven that models, ideas and suggestions can be used not only for early education, but also for educational work with adolescents and adults. The Orff-Schulwerk also has special significance in social and curative education."
Okay, we don't want to drift too much into the subject-specific here. So we'll get to the point: Carl Orff didn't want elitist instrument training that only privileged people could afford. He also didn't want to exclusively promote the talented. Making music should be fun, practicable with simple instruments, and based on a child's natural urge to move.
For Orff, the question quickly arose as to which instruments would most likely allow the innate joy of rattling and knocking things to live. And since children aren't necessarily gentle, a basic requirement was that it had to be robust. In 1928, a coincidence came to his aid. Some friends gave Carl a so-called "beatle piano", a kind of xylophone, which a sailor brought from Cameroon. The resonator body was made of a rectangular wooden box labeled 10,000 planks (so a nail box) and the builder had attached 12 claves (wooden keys) to it with string. The instrument was played with a mallet and produced a surprisingly good and very distinctive sound - the ideal vehicle for Orff's work was found!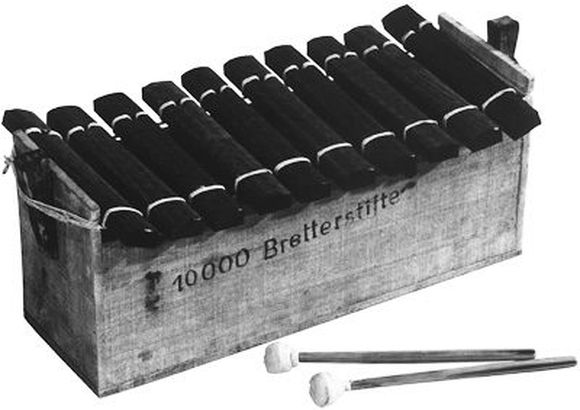 Together with a friend, the harpsichord builder Karl Maendler, he built his own version for use at the Günther-school. The instrument was a complete success and it wouldn't be too much to say, that the development of Carl Orff's school would have gone very differently without the xylophone. The nationwide breakthrough of his didactic concept resulted in a broadcast series on his school work by the Bavarian radio in 1948. As a result of the very successful special, there was a run on Orff's instruments. But there was a small problem: Since Karl Maendler had stopped constructing instruments due to age, Orff couldn't satisfy the demand.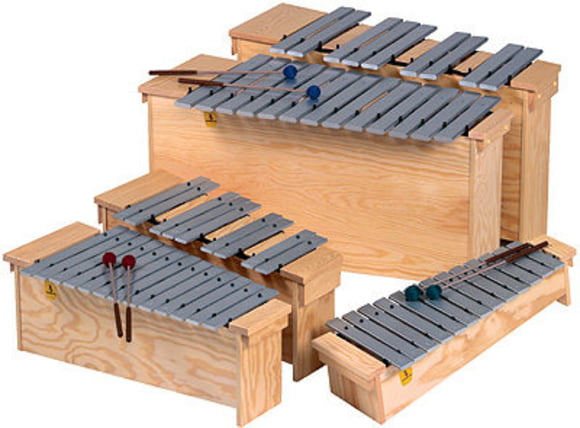 One of his students, Paul Müller, had an idea. He was friends with a young mechanical engineering student named Klaus Becker-Ehmck, who not only possessed the necessary craftsmanship needed to build instruments, but incidentally also had a weakness for music. Contact was made quickly and a short time later, the combination of Orff / Becker-Ehmcke turned out to be an absolute hit. Carl and Klaus became good friends and together created legendary instruments such as the lithophone and the first chromatic xylophone. Other instruments used in Orff's textbooks and musical early education include: glockenspiels, metallophones, xylophones, wood and metal singing sticks in all registers, timpani, drums, bell drums, bells, wooden block drums, rattles, maracas, cymbals, triangles, finger cymbals and castanets. All of this is complemented by the use of flutes and other melody instruments.
Producten met de beste beoordelingen