SPL MixDream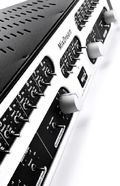 € 2.999
Incl. btw en verzendkosten
B-Stock vanaf € 2.599 beschikbaar
Info

artikelnummer: 185386
Dit product is besteld en verwachten we bij ons in de komende dagen.

artikelnummer: 185386
verkoopeenheid: 1 stuk
beschikbaar sinds: 29.09.2005
Productdetails
60V Analog AccumulatorThe MixDream allows both the central integration of analogue equipment into digital production environments as well as the stereo summation, i.e. the mixing together of the audio tracks on an analogue level.
Conceptually, the reduction to high-quality analog summation, without the use of panorama controllers and faders, offers the great advantage of being able to maintain the entire computer automation. A MixDream can add 16 audio tracks to a stereo signal. If more than 16 tracks are to be summed, as many MixDreams can be used together.
The MixDream is based on discrete Class-A technology at 60V (/ -30V). Newly developed circuits based on state-of-the-art analog components ensure tremendously high rise rates, a low noise level of -97 dBu (A-rated, 16 channels open) and a high dynamic range of over 125 dB. Thus the MixDream can easily reach the technical level of the best consoles.
High-quality analogue summation to only 2U
No mixing console required
High-quality design with Class-A / 60V stages for the analog, active summation in the quality of the best analogue consoles
16 symmetrical insert paths for optimal integration of analog effects into the DAW
Reduction of the A / D conversion (14 A / D conversions less with fully loaded inserts), summation of all analog tracks before the A / D conversion
Channel settings and automation (level, panorama, etc.) are still made in the DAW - the digital comfort remains fully preserved
Lower processor utilization of the DAW
Easy re-sampling of individual tracks, latency-free listening
Surroundable (from 3 MixDream units)
Channel number can be expanded as required by additional units
Analogue peak limiter for powerful loudness gain
Sensitive and transparent stereo control
Master inserts and switchable output transformers
Optimized signal paths, all switching functions via relays
Separate differential amplifier for each input
Discretely built, low-noise power supply
Frequency range: <1Hz-220kHz (/ - 3dB)
THD N: -104 dB (20Hz-22kHz, input level 10dBu, all channels active)
Signal-to-noise ratio: -97 dBu (20Hz-22kHz, A-weighted, all channels active)
Max. Input level: 28 dBu (@ 1kHz)
Max. Output level: 28 dBu (@ 1kHz / THD N -95dB)
Dynamic capture: 125 dB (20Hz-22kHz, A-weighted, all channels active)
L / R: -97 dB @ 1 kHz
Common mode rejection: <70dB (@ 1kHz, input level 10dBu)
Input Impedance: 10 kOhm (for Input 1-16, Expansion, Insert Return)
Output Impedance: 82 Ohm (for master / monitor output without transformer, ins. Send)
Output impedance: 65 Ohm (for master / monitor output with transformer)
Power consumption: 75 W
19 "rack format with 2U
80340
Thomann Bestseller positie
Aanverwante artikelen