ADJ VF1600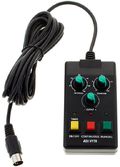 142 €
633,59 PLN
Zawiera podatek VAT, nie zawiera kosztów wysyłki
Wysyłka spodziewana do dnia

Czwartek, 26.11.
Szczegóły

Numer artykułu: 354540
Produkt jest dostępny w magazynie.

Numer artykułu: 354540
Cena za: 1 szt.
Produkt dostępny od: 16.12.2014
Power: 1500 W
DMX Control: Yes
Output direction: horizontal
with timer remote: Yes
with On/Off cable remote: No
with radio / IR - remote: Yes
with light effect: No
Battery operated: No
Fluid consumption [ml/min.]: 0 ml
Incl. Mounting Bracket: Yes
Ceny w PLN podane są tylko w celach orientacyjnych.
Szczegóły
DMX Fog Machine
Efficient heating element for rapid heating of the fog fluid without residue
Electronic Thermo Sensing (ETS) for optimum heating phases
Shutdown at low mist fluid level to protect the pump
Power rating: 1600 W
Heating time: 8 minutes
Output: 566 m³/minutes
Fog fluid tank: 2.3 litres
Includes wired remote control VFTR from ADJ with timer
Includes RFC remote control VFWR1316 from ADJ (included)
On/Off switch for fog on rear control panel
3-pin DMX In/Out connector
Safety eye
Dimensions (L x W x H): 490 x 330 x 320 mm
Weight: 7.4 kg
Note: Please use only high-quality water-based fog fluid
Klienci którzy oglądali ten artykuł kupili u nas następujące produkty
Podobne produkty
Youtube na ten temat
Dokumenty do pobrania