ATV EXS-2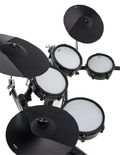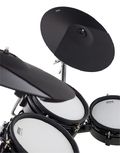 879 €
3 974,28 PLN
zawiera podatek VAT · Darmowa wysyłka
Szacowana dostawa pomiędzy

Środa, 3.03.

and

Czwartek, 4.03.
Szczegóły

Numer artykułu: 460323
Produkt jest dostępny w magazynie.

Numer artykułu: 460323
Cena za: 1 szt.
Produkt dostępny od: 11.06.2019
Incl. Rack: Yes
Incl. Throne: No
Incl. Footpedal: No
Incl. Headphone: No
Mesh Head Pads: Yes
Pads (Stereo): Yes
Number of Direct Outs: 0
Ceny w PLN podane są tylko w celach orientacyjnych.
Szczegóły
E-Drum Set
ATV xD3 drum module (the "little brother" of the aD5 module)
5 Preset drum kits
13 Additional kits available free of charge from the ATV Soundstore
20 Songs (more can be played from SD card)
Metronome
Quick Record
Practice function
Additional 6.3 mm stereo jack input for a second crash pad
Headphone output: 6.3 mm stereo jack
2 Main outputs: 6.3 mm mono jack
Mix input: 3.5 mm stereo jack
SD/SDHC card slot for storing backups and playing WAV files
USB-MIDI interface for direct connection from Mac or PC
Note: After registering the drum set on the ATV website, 9 additional kits are available for free download.
Set configuration:
1 x 10" Mesh head snare pad
3 x 08" Mesh head tom pad
1 x 08" Mesh head kick pad
1 x 12" Hi-hat pad pair mountable on hi-hat machine
1 x 12" Two-zone crash cymbal pad
1 x 12" Ride cymbal pad
Drum rack
Note: Foot pedal and seat not included
@+
Podobne produkty