IK Multimedia iRig 2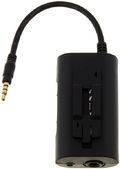 Szczegóły

Numer artykułu: 357477
Produkt jest dostępny w magazynie.

Numer artykułu: 357477
Cena za: 1 szt.
Produkt dostępny od: 06.03.2015
Design: Pocket Format
Tube(s): No
Amp Modeling: Yes
Effects: Yes
Headphone Output: Yes
Direct Out: Yes
MIDI Interface: No
Integrated Expression Pedal: No
Connections for Pedals or Switches: No
Aux-Input: No
Integrated Tuner: Yes
USB-Port: No
Drum-Computer: No
Ceny w PLN podane są tylko w celach orientacyjnych.
Szczegóły
Guitar Interface for Mobile Devices
Fixed 3.5 mm TRRS jack cable for connection to devices with headset connectors with CTIA/AHJ wiring standards, e.g. iPhones, iPads, iPod Touch, Android Smartphones, etc.
6.3 mm Mono jack input for guitar, bass or other instruments with a mono output
6.3 mm Mono jack output for parallel use of an external amplifier
Headphone jack with 3.5 mm stereo jack
Selectable dual-mode switch: FX and THRU
Adjustable input level
Includes mounting material for microphone stands (or similar stands): Hook and loop fastener tape
Dimensions: 72 x 39 x 21 mm
Weight: 43 g
Note: Real-time usage of apps with Android devices is not possible.
@+
Klienci którzy oglądali ten artykuł kupili u nas następujące produkty

55% kupiło ten artykul
IK Multimedia iRig 2
Podobne produkty